It is finally time! If you are like me, that "itch" to get back out onto the golf course may be starting to emerge. You check your weather app at least four or five times a day to see if the conditions for the upcoming weekend are going to be suitable playing (no wind/rain = good for me).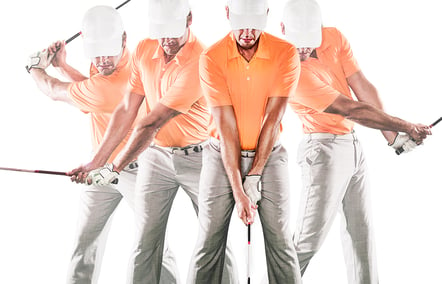 Most of us might have been lucky to get out and play a handful of times over the winter, but some might be picking up a club for the first time in almost five months or more when that first tee time rolls around. Regardless of how many times you have played in recent months, everyone can benefit from improving golf-specific fitness areas before the full-fledged season begins.
About a year or so ago, I wrote a blog called "Caddy Smack" (hence "Caddy Smack Deuce"). Caddy Smack was designed to give you a few starting points on how you can increase one very important aspect of the golf swing, rotational power. Rotational power is a very important force-generating factor and may help you gain a few extra yards off of the tee. But as most of you probably know, there is MUCH more to the golf swing than just power. Follow along as I go over five of the most important fitness areas to improve that can have a direct impact on your swing.
Ankle Mobility
All great golf swings start from the ground up. How the feet are positioned and the movement (or lack thereof) can change a smooth swing into one that looks like a rusted teeter-totter. Lack of mobility throughout the ankles can constrict your range of motion and can also prevent you from using the ground as a force-generating tool.
What can you do to improve it? Do Wall Ankle Mobility Drills: 2 to 3 sets of 10 repetitions per leg
Hip Mobility
As Chubbs from the movie Happy Gilmore once said, "It's all in the hips." Well, I'm here to tell you that Chubbs wasn't lying. A solid portion of the movement that occurs in the swing can be attributed to your ability to achieve a full range of motion within your hips. If you have been around the game long enough, you know the term "hip turn." This does not happen with poor mobility.
What can you do to improve it? Do Supine Bridge Leg Circles: 2 sets of 5 reps (clockwise and counterclockwise) per leg
Rotational Power
If you have read this blog's big brother, you know that rotational power plays an important role in your swing. My belief is that if you become more powerful, you will not have to swing as hard in order for the ball to fly the same distance, thus minimizing mis-hits due to being out of control. Essentially, you are generating the same amount of force (or possibly greater) without feeling like you are doing anything different. Seems like a win-win to me.
What (else) can you do to improve it? Perform Standing Rotational Shot Put: 2 to 3 sets of 5 to 8 reps per side
Shoulder Mobility
I know you have done it, watching the slow-mo of one of the tour players' swings, being enamored by their ability to draw the club back so far (Phil Mickelson goes way past parallel to the shoulders). The next time you hit the driving range, you try to mimic that exact takeaway and the shot is a proverbial dumpster fire. I've done it too. You wonder to yourself, "How do they do that"?
Well, for most of them, their swings have been forged since they exited the womb. That feeling is natural to them. But one factor in which they may have a slight advantage over you may be shoulder mobility, or the ability for the shoulder to move freely and under control throughout the range of motion without the sense of constriction. There is no way that you will be able to recreate a backswing of such length if you cannot perform similar tasks without the golf club in your hands.
What can you do to improve it? Standing (or seated) Wall Slides: 2 sets of 10 reps
Single-Leg Stability
My final important aspect to aim to improve for your golf swing is single-leg (SL) stability. SL stability combines other factors that I mentioned previously (such as ankle/hip mobility), but for some individuals, it's just something that needs to be practiced. After you make contact with the ball in your swing, there is a transfer of weight to your lead foot, which causes that hip turn and allows you to hold the finish pose. Although both feet are still in contact with the ground, the lead leg is providing the majority of the support.
When is the last time you balanced on one leg for 30 seconds? What about balancing for 30 seconds with your eyes closed? What about balancing with your eyes closed, juggling flaming bowling pins, while eating sushi (okay, maybe I'm kidding). That is a good place to start. Feel what it is like to stand without using anything but that plant foot. Do it on both sides. After you have mastered the balance, you can add more elements.
What can you do to improve it? Do Single Leg Balance with Tennis Ball Bounce (against wall): 3 sets of 20 per leg
The golf swing is as unique and complex as any movement that I have ever analyzed. There are so many factors that could make or break your success; however, many of those factors are modifiable. I hope that this spring, summer, and fall golfing seasons are the best you've ever had!
Now, watch me hit a ball over the White River bridge!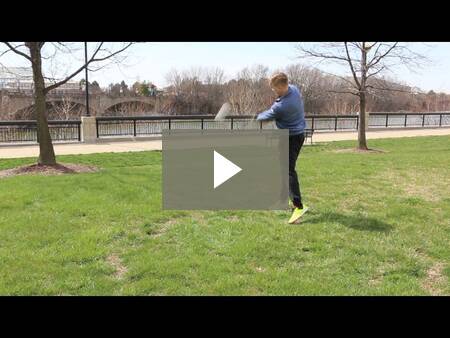 This blog was written by Alex Soller, NIFS Athletic Performance Coach. To find out more about the NIFS bloggers click here.