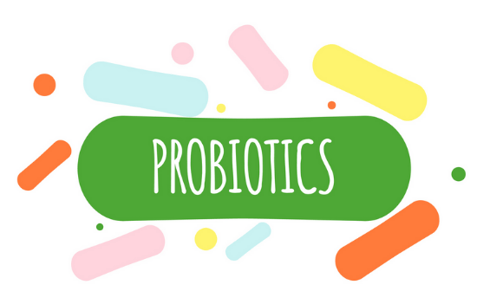 "Take a probiotic; it helps with your gut." We have all heard it from friends, doctors, and Registered Dietitians. Is it really that simple, though? It is no secret that probiotics really do help with a variety of gastrointestinal (GI) issues. However, did you know that there are specific strains of probiotics that help with specific symptoms, and while one strain may help with one GI symptom, it may not help with another? Not all probiotics are created equal, and not all supplements labeled "probiotic" will yield health benefits.
What Are Probiotics and Prebiotics?
Probiotics are live microorganisms (tiny living things), mainly bacteria and sometimes yeast, and are intended to have health benefits when ingested. They are similar to the helpful microorganisms naturally found in the gut. Probiotics are found in supplements and fermented foods, such as Greek yogurt with added Lactobacillus and Bifidobacterium, kombucha, tempeh, kefir, and sauerkraut.
Do not confuse these with prebiotics, which are the food source for the "good" bacteria in our GI tract. Prebiotics are "a selectively fermented ingredient that allows specific changes, both in the composition and/or activity in the gastrointestinal microflora that confers benefits upon the host's well-being and health." They are carbohydrate compounds, primarily oligosaccharides, that withstand digestion in the GI tract and reach the colon where they then are fermented by the gut microflora, helping the good bacteria to grow. In short, they fall under the categories of soluble fiber and fermentable fiber. This is important, because even if you are taking a probiotic or eating foods rich in probiotics, you may not be receiving the maximum amount of benefits if you are not eating enough prebiotics (soluble and fermentable fiber). Foods rich in prebiotics include green bananas, onion, garlic, asparagus, artichokes, and leeks.
How Do Probiotics Work?
The human GI tract is colonized by many microorganisms, such as bacteria, viruses, fungi, archaea, and protozoa. The totality of these organisms is known as the gut microbiota, microbiome, or intestinal microflora and can affect the health and disease state of a human. Probiotics typically work in the GI tract to alter the intestinal microflora, adding good bacteria to the microbiome. The mechanism of action depends heavily on the species and strains because different species and strains have different effects. Some of the known mechanisms include the following:
Inhibit the growth of some pathogens (microorganisms causing disease or sickness).

Help with vitamin synthesis (B vitamins and vitamin K).

Increase

absorption of protein

.

Reinforce the gut barrier, keeping food and other GI contents from leaking into the bloodstream.

Neutralize toxins.

Lower the pH

in the colon, which could help speed up stool for those who are constipated.

Replenish good bacteria

after taking antibiotics

, which may help resolve diarrhea from antibiotics.
Probiotics and Gut Health
The gut microbiota is the center of much current research. Researchers are suggesting that an imbalance in the gut microbiota could lead to several health issues including immune dysfunction, infection, obesity, and GI problems. The imbalance can come from medical conditions, stress, and antibiotic usage (which destroys bad and good bacteria).
Using a probiotic to restore balance has been shown to alleviate symptom persistence in irritable bowel syndrome (IBS) by 21% using both single-strain and multiple-strain supplements, with the mixtures being most effective. Studies also found symptom relief in ulcerative colitis, reduction in acute diarrhea duration and frequency, and lower risk of diarrhea from antibiotic use by 51% or clostridium difficile infection.
A healthy gut with plenty of good bacteria has also been shown to improve the immune system, combat inflammation, and potentially reduce bad cholesterol (total and LDL cholesterol).
Picking Probiotic Supplements
Remember, not all probiotic strains and species are created equal. Trying to figure out exactly what strain, species, and genus of probiotic will work for you and your needs can be tedious, because there are thousands upon thousands of variations. It may take some trial and error to finally find a probiotic that meets your needs.
The good news is that both Lactobacillus and Bifidobacterium are the most studied probiotic genera. There are several studies of strains from these two genera that have produced positive results. Below is a list of conditions with the genus and strain of probiotic that has shown promise in helping with the condition.
Acute diarrhea: Lactobacillus paracasei or Lactobacillus rhamnosus or Saccharomyces boulardii
Antibiotic-associated diarrhea: Lactobacillus casei, Lactobacillus bulgaricus, Lactobacillus acidophilus, Lactobacillus rhamnosus
Overall symptoms of IBS: Bifidobacterium bifidum, Escherichia coli
Abdominal pain: Bacillus coagulans, Bifidobacterium bifidum, Lactobacillus plantarum
Bloating/distention: Bifidobacterium animalis, Bifidobacterium bifidum, Lactobacillus reuteri
Constipation: Bacillus coagulans, Bifidobacterium animalis, Oligofructose (prebiotics)
Lactose maldigestion: yogurt with Lactobacillus delbruecki susp bulgaricus and Strepococcus thermophilus
High Cholesterol and LDL: Lactobacillus acidophilus, a mixture of

Lactobacillus acidophilus

and

Bifidobacterium lactis

,

Lactobacillus plantarum (more research is needed here)
If you are struggling with GI symptoms and considering a probiotic supplement, it is important to talk this over with your Registered Dietitian (RD) and primary care provider. They can help to identify the correct genus, strain, species, and dose you need.
Feed Your Gut
For those healthy individuals, you most likely do not need a probiotic supplement. If you really want to help your gut, follow these tips:
Eat foods rich in probiotics. When seeking foods with probiotics, the product must have active and live bacterial culture and indicate that on the label. A good rule of thumb is at least 1 billion colony-forming units or 1 billion CFUs, containing the genus Lactobacillus, Bifidobacterium, or Saccharomyces boulardii.

Probiotic-rich examples include Greek yogurt, kombucha, tempeh, kefir, and sauerkraut. Be sure to check the label for the specific genus of probiotics(s) in the products, as they will differ. Also note that the starter cultures in Greek yogurt are Streptococcus thermophilus and Lactobacillus bulgaricus, but these are often destroyed by our stomach acid and offer no benefits. Get the Greek yogurt brands that add extra bacteria to the starter cultures (check the label).




Feed your probiotics with prebiotics to help the probiotics multiply in your microbiome.

Sleep at least 7–8 hours each night.

Maintain a healthy weight and body fat percentage.

Manage stress.

Balance your diet, keeping it loaded with fruits, veggies, lean proteins, fiber, and whole grains.
As always, reach out to the NIFS Registered Dietitian for nutrition help, including nutrition management of gut-related issues. We are here for you.
This blog was written by Sabrina Goshen, NIFS Registered Dietitian. To learn more about the NIFS bloggers, click here.