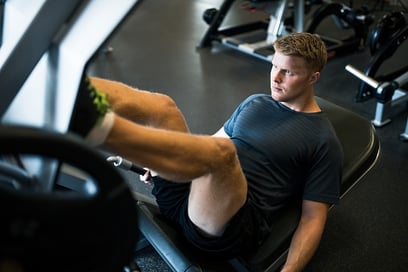 You have finally achieved your goal of adding some lean muscle mass, so what now? Where do you go next? The next step I would take would be to train your body to use those newly developed muscles to their fullest potential. This increase in strength building can come from numerous sources, some of which you may have already experienced.

Strength improvements may be developed from different types of training and at different times in programs. Many of these improvements can be obtained through two modes: neurological adaptations and increases in muscle cross-sectional area (CSA; muscle size).
Neurological Adaptations
Neurological adaptations can be noticed only days after starting a new training program, depending on your experience with resistance training. If you have no prior experience with it, the stimulus of a few sets of different resistance exercises over one or two days might give your body enough reason to improve its strength levels. But how could the body possibly get stronger in one or two training sessions? Did your muscles get any bigger? No. Your body (the brain, specifically) is becoming more efficient at firing those muscles you have used to meet the demands you have placed on them.
Quick improvements, like those via neurological adaptations, will not always be achievable. Your brain/body will catch up to what you are doing eventually, which is why other modes of training are important.
Increases in CSA
Another type of strength development is to increase the muscles' cross-sectional area, or make the muscle bigger. This can be achieved by following my previous blog, which goes over muscular hypertrophy and different variables you need to control to get it. When a muscle becomes larger, it simply has the ability to create more force than it did when it was smaller. This will definitely lead to increases in your strength levels.
If you plan to follow the structure that I have laid out for you over this series of blogs (Cardio Workouts, Muscular Endurance, and Muscle Building), you are ready for that next step. You may have put on some lean muscle mass (hypertrophy), or you may not have. Regardless, you can still take your strength training to the next level.
Strength improvement in this sense is almost a combination of the two modes of development I stated earlier, neurological adaptations and increases in muscle CSA. You have new muscle that you have worked hard to build, but now you need to train your body to get that muscle firing at optimal levels. Your new muscle needs that neurological adaptation.
Recommended Workouts
True strength training is time consuming, so be ready for a lot of downtime between sets. When you start your program, try 2 to 3 sets with repetitions ranging from 1 to 5 (heavy weight!) on your core lifts (bench, squat, and deadlift). Add in a few more strength exercises after the first few weeks.
Rest periods can vary; however, you want to have at least 2 to 5 minutes between sets. This is CRUCIAL for strength development. You want to make sure you are 100% rested or very close to it. This will allow your body to perform at the highest level during each set. The more you hit this high level, the easier it will become to fire those muscles, which increases strength levels.
Get after it!
This blog was written by Alex Soller, NIFS Athletic Performance Coach. To find out more about the NIFS bloggers click here.