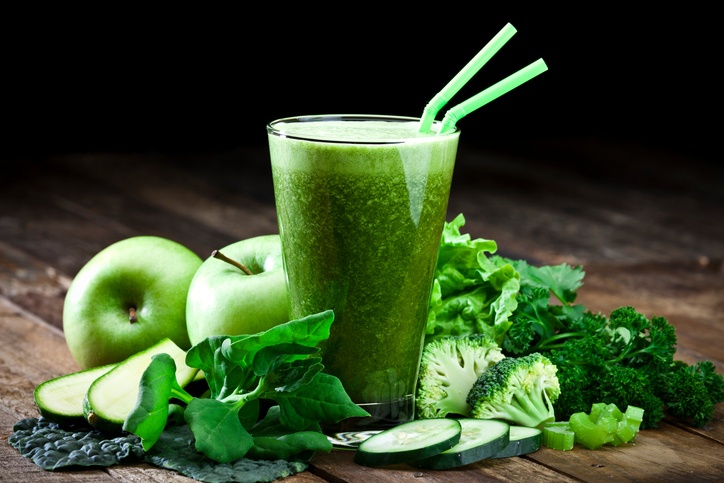 St. Patrick's Day, the greenest of the holidays, is right around the corner. You might have your favorite lucky green shirt that you wear every year, but do you also have a favorite green dish that you eat, too? For a lot of people that might be some corned beef and cabbage, but if you aren't a fan of that dish, want something with more balanced nutrition, or want to eat green at other meals too, try one of these healthy and tasty green recipes.
Green Goddess Smoothie for Two
2 cups green, leafy veggies, such as spinach, kale, romaine, and collard greens
2 cups liquid, such as water, milk (almond, coconut, cow's, soy, etc.), or Greek yogurt
3 cups fruit, such as banana, berries, mango, pineapple, peach, pear, and apple
Blend the greens and liquid first.
Then add the fruit and blend again. Use frozen fruits for a thicker smoothie and to avoid adding ice.
(Here are more tips for building nutritious smoothies.)
Edamame Guacamole
1 cup frozen, shelled edamame, thawed
1 ripe avocado, peeled and pitted
½ cup chopped cilantro
2 cloves garlic, minced
¼ onion, roughly chopped
½ jalapeno, finely chopped
Juice of 2 limes
2 to 3 Tbsp water
Salt and freshly ground black pepper, to taste
Put edamame, avocado, cilantro, garlic, onion, jalapeno, and lime juice in the bowl of a food processor and pulse until combined.
Add enough water to make a creamy consistency and pulse again. Pulse until smooth.
Transfer edamame guacamole to a serving bowl and season with salt and pepper. Stir. Serve with chips or vegetables.
Green, Green Salad
24 oz. Brussels sprouts, shredded
6–8 slices crisp cooked bacon, chopped
1 cup sliced red onion
⅔ cup dried cherries, unsweetened
⅔ cup sliced almonds, toasted
4 oz. goat cheese, soft and crumbled
Citrus Vinaigrette:
1 small orange, juiced
1 tsp. orange zest
1 lemon, juiced
2 Tbsp finely minced shallots (may substitute 1 Tbsp minced garlic)
1 tsp. yellow mustard
3/4 cup olive oil
2 tsp fresh thyme, minced
Sea salt and pepper to taste
Shred Brussels sprouts using the shredding blade of a food processor or slice thinly with a knife.
Place Brussels sprouts in a large bowl and combine with chopped bacon, red onion, cherries, almonds, and goat cheese.
Whisk together vinaigrette ingredients.
Add vinaigrette immediately before serving and toss well to coat.
Makes 10 servings
This year on March 17th, pull out your favorite green clothing item and also make it a goal to eat green at every meal!
This blog was written by Angie Mitchell, RD, Wellness Coordinator. To find out more about the NIFS bloggers, click here.