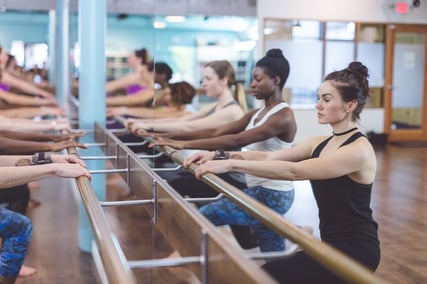 Creating healthy habits is a challenge for most people. Doesn't sitting at a bar with a glass of wine sound much easier than going to the gym and taking a barre class after work? In the moment, YES; but which is more beneficial for your health and longevity?
NIFS is passionate about educating gym-goers to create healthy habits, and our staff is here to help members achieve that. NIFS loves having Barre Fusion in our group fitness schedule (now online at home), and love motivating others to take this class to feel all the benefits.
So What Is This Workout?
Barre Fusion classes are getting a lot of hype these days for providing amazing results—not just physically, but also mentally. This workout is designed to strengthen and tone all areas of the body while also providing length in a balanced format through breath. The class aids in small movements to target the stabilizing muscles in the body, which are often untrained in a standard workout. Strengthening these muscles is proven to benefit with core strength and balance as well as prevent injury.
The pace of the class is quicker than a yoga class, creating a cardiovascular aspect through quick transitions but still focusing on the elements of flexibility and breathing that you'd find in a yoga class. By training the body in this format, you are also improving your mindfulness, which will lead to wanting to live a life filled with more healthy habits.
Lisa Williams, avid Group Fitness attendee, says, "This is one of my new favorite all-over workouts! I absolutely love it! With the small movements we do, you can feel a burn in your muscles that you know are getting stronger each class. It also helps tone, as I have already noticed a change in my outfits from it! I also like the variety of the class. Although the flow is the same, you don't continually do the same exercises. I never leave the class feeling like I didn't get an amazing workout! I suggest all to try it!"
What Is a Habit?
A habit is a routine or pattern you adapt to. Some habits have negative effects; and some have positive effects. It's often easy to read about what we should be doing, but actually getting out of our comfort zone to create a new habit is a challenge.
So How Do You Change Habits?
Create new ones, but ease into it. Stopping anything cold turkey can often just lead to reverting back to that habit. Finding a healthy habit you enjoy and slowly incorporating it into your life is key. For example, do you enjoy going to a bar after work for the atmosphere of the music and people? Maybe start by swapping "the bar" one day a week for "barre." Coming to a group Barre Fusion class will create an atmosphere of music and people, but in a healthy format. Not only that, the calories and sugar often found in drinking are proven to cause health problems, while working out is proven to lead to healthy results.
So the choice is yours! Join NIFS for a healthy option, and try a group fitness class for free! To check out the Group Fitness schedule and all NIFS has to offer, click here.
This blog was written by Brittany Ignas, B.S. in Kinesiology, 200 Hour Yoga Alliance Certified, Stott Pilates Certified, and Fitness Coordinator. To find out more about the NIFS bloggers, click here.