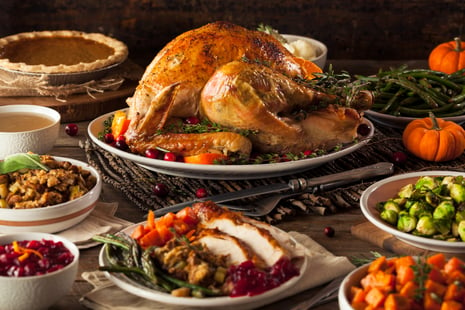 The holidays are HERE! We all know what happens around the holidays. I see two extremes in my practice as a Registered Dietitian:
The vicious cycle of dieting all year to lose the "holiday weight" or to get bloodwork back to normal after all the holiday meals. People accomplish their goals just in time for the holidays to start again—and gain back the weight and drive our doctors nuts with outrageous bloodwork again.

The person who is terrified to "lose all their progress," brings their own "healthy" meal to the gathering, and completely avoids the yummy meal—even at the cost of social, mental, and emotional health. Let's be honest: that behavior distances people socially, and not having Grandma's famous pie is just sad.
Honestly, both are unhealthy approaches and they are, frankly, unnecessary. Let me be real clear: what we do consistently over time is what has the greatest impact on our health, not what we do on one day, two days, or a couple holidays. We can break these cycles! You don't have to gain weight or ruin your bloodwork over the holidays. You also do not have to bring your own "healthy" meal, avoid Grandma's cooking, and face a socially awkward and sad situation.
There is a way to enjoy the holiday food with family and friends all while pursuing your health goals. Here are the action steps.
Be Active
Get up and moving. This can be as simple as taking a walk with family, going on a morning stroll before the gathering, walking the dog, or playing a game that has you up and moving (such as Wii, tag, Twister, or Simon says). You can also get in a quick 20–30-minute workout before all the festivities start that day, or wake up early to get in a full lifting session. Don't overthink this; a short 20–30-minute workout with high intensity is very effective! (Here are some workouts you can do when traveling.)
Follow Your Eating Routine
Forget the "don't eat anything to save calories for all the food tonight" method. That leads to a very hungry person, which makes overeating at the gathering much easier. Go about your morning as you normally would. Eat breakfast (if you eat breakfast). Have your typical snack and lunch. Fill up on fiber-rich sources, such as fruit and veggies, along with lean proteins. All these options will help fill you up and nourish your body. You will walk into the gathering satisfied and ready to eat your Grandma's holiday meal.
Hydrate
Be sure to stay hydrated with plenty of non-caloric fluids (mainly water) the days before, the day of, and the days after holiday gatherings. Liquids take up room in your stomach, meaning staying hydrated contributes to proper regulation of hunger/satiety cues. Again, this helps reduce overeating. Additionally, holiday foods tend to be high in sodium. You will want plenty of water to offset the negative effects that a high sodium intake has on your hydration status. Trust me, you will feel much better if you stay hydrated.
Eat the Holiday Meal
For heaven's sake, do not bring your own meal, measuring cups, or scales to the gathering! Eat the holiday meal. Fill up your first plate with all your favorites—the ones that grandma and momma only cook once or twice a year. Be mindful of portion sizes. Then, if you want, go back for a second plate. For that plate, pick two or three more things that you want some more of. Take a portion of each and enjoy it.
Enjoy the Meal
Sit down with each plate. Take a nice deep breath. Start eating. Chew each bite thoroughly. Slow down your eating. Be present at each bite, soaking in all the yummy goodness of that home cooking. Don't be afraid to pause between bites and converse with family around the table. This not only helps you enjoy family around you and to be present in that moment, but it also gives your body time to send you satiety cues. When we eat super-fast, we do not allow our body enough time to signal "I AM FULL." Be present and listen to what your body is telling you.
Have a Conversation
During the meal, talk with your family and friends, even if you are the one having to initiate conversation. DO IT! Think about one of the true reasons for the season. Hint: it is not food and gifts. Sure, food is a huge part of it. But we gather to be with family and friends to celebrate our blessings, our year, and our religion, and to give thanks. Conversing really embraces what holidays are all about and shifts your focus to more than just the heap of food in front of you.
Eat Dessert
Find your favorite deserts and eat a serving. I promise, eating dessert will not derail your health goals. I'd argue this action will actually help your health goals because Grandma's famous pie sure does positively contribute to mental and emotional health.
Get Right Back to Your Typical Regimen the Next Day
Wake up the next day and get back to your typical routine. Exercise as you normally would. Eat your normal meals and snacks. Honor your physical health with nutritious options. Sleep. Do this on the days you are not at a holiday gathering. Back to the idea of consistency, there are more non-holiday days than there are holiday days and gatherings. Be on your game and remain consistent during those weeks and days, knowing that another gathering full of food and fun is right around the corner. Repeat steps 1–7 during the next gathering.
HAPPY HOLIDAYS!
This blog was written by Sabrina Goshen, NIFS Registered Dietitian. To learn more about the NIFS bloggers, click here.