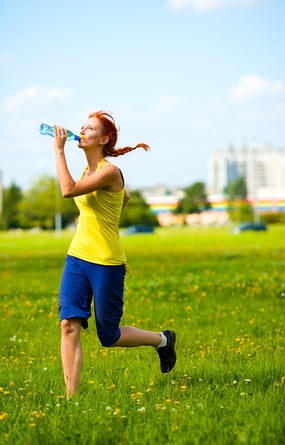 Hydration is just as important, or maybe even more important, than proper nutrition and a balanced training plan. Dehydration is the largest contributor to fatigue when training or running. Our body sweats to regulate body temperature and complete many other functions that keep us healthy. When our body loses fluid and electrolytes through these processes, it needs to be replaced.
In order to be hydrated enough to enjoy your race, it's important to think about consuming fuids before, during, and after the run.
Before: The days leading up to the race or a long run, it is important to really focus on constantly drinking water throughout the day so that on the day of the long run or race you are just topping off your tank. A general recommendation is to drink half of your body weight in oz. Example – a 150lb person would consume 75 oz of water. It's recommended to stop drinking about 30 minutes before a long run or race so you have time to use the facilities.
During: Drinking while running a half marathon may sound like a challenge, but actually taking a second to drink the water provided along the race course will make you feel SO much better at the finish line. Try to drink 16-20 oz an hour. This will vary depending on how much you sweat, how hot it is and the intensity of your exercise.
After: Proper hydration helps with recovery, so it's essential to replenish when you complete your race. It's typically recommended to drink about 24 oz for every pound of body weight lost during the race.
Now, you may be wondering about sports drinks. Sports drinks are higher in calories and sugar than water and they also contain electrolytes like potassium and sodium that your body lost through sweat. The purpose of sports drinks is to help replenish your body of the nutrients it lost. If you are running for more than an hour, sports drinks may be a better option to help you recover.Now that you understand WHEN to hydrate, let's talk about HOW to hydrate: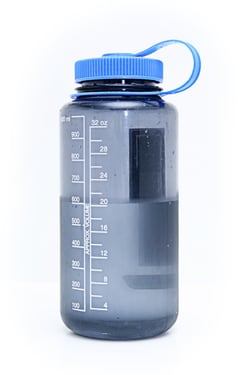 Water Bottle:
I carry this water bottle with me throughout the day. I love that it has the measurements on the side, so I can monitor how much water I consume. Because I carry it with me, I am more inclined to drink throughout the day rather than all at once when I think about it.
Hydrating Fruits and Vegetables:
Foods such as lettuce, grapefruit, watermelon and broccoli have a high water content. Consuming foods like this throughout the day will help your hydration levels stay balanced.
Homemade Sports Drink:
This homemade sports drink is the perfect balance of carbohydrates and electrolytes to help you refuel AND it's made with real ingredients. The citrus are thirst quenching and provide simple carbohydrates that are easily digested. Pure maple syrup is lower on the glycemic index, which means that these carbohydrates are digested at a slower rate for longer lasting energy. Water and the coconut water are both fluid, and the coconut water is also a source of electrolytes to help your body maintain balance.
It's very simple to make at home, and I'll include the link in the comments below!
The takeaway here is to make sure to drink water throughout the day, and when you are completing your longer runs or the actual race make sure to consume water or a sports drink every hour and immediately following the race to help maintain energy levels and aid in the recovery process.
Comment below with your favorite ways to hydrate and I'll see you next time with more half marathon training tips!
This blog was written by Tara Deal Rochford, nutirition specialist. Follow Tara on her blog, Treble in the Kitchen. To find out more about the NIFS bloggers, click here.