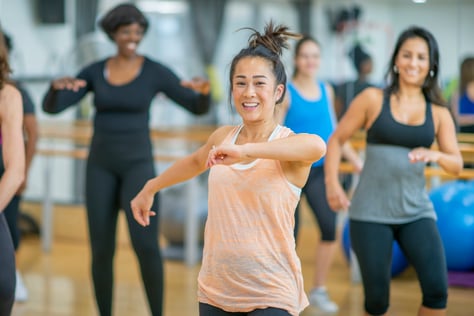 Consistency is arguably the most important component when working to accomplish goals, in or out of the gym. Without consistency, programs are unorganized, the body has a harder time adapting, and forming habits may be more challenging.
Build and Follow Workout Programming
Whatever your goals may be, they require a consistent level of training for you to reach them. One way to ensure consistency within the scope of your goals is to build a program. Programs make it much easier to stay on track because you won't have to think about what you're going to do at the gym today—it's already written out. Most programs are designed to be followed for a set amount of time, typically about 4 weeks. Depending on the desired goal, the program will have a different focus—hypertrophy, endurance, strength, and so on. Each day is designed with the goal in mind, while ensuring that you are training in a way that minimizes imbalances within the body. If you aren't following the program consistently, the chance of it working is reduced.
Theoretically, if you have a program and you don't follow it, the body is not going to be able to adapt to the program because there isn't an opportunity for progressive overload, which is when the amount of stress on the body is gradually increased over time, leading to increased strength and performance.
Work Toward Adaptations
Biologically, a lot of things happen in the body during exercise. Over time these reactions change the body to become stronger, grow, or run more efficiently. Different factors affect adaptations in everyone, so it's impossible to predict when these changes will occur. But being consistent with training will increase the likelihood of seeing adaptations sooner.
Different modes of exercise elicit different adaptations. Endurance training will produce different changes than resistance training. While there are far too many adaptations to discuss in this blog, a few examples reported by the CDC include the following:
Improved ability of muscles to use fat as energy
Stronger ligaments and tendons
Increased VO2 max and lactate threshold
Increased number of capillaries in muscles
Cardiac muscle hypertrophy
Increased force production
Each of these changes is beneficial for different scenarios. The body is either becoming more efficient or stronger, or performance is enhanced. However, these long-term benefits are seen only after consistent training over a period of time.
Create Habits
We are creatures of habit. The more we practice something, the more natural it becomes. We experience this when we learn to walk as babies, when we learn to drive, and when we exercise. It's normal to feel out of your element when you try something new, but the more you do it, the more comfortable you feel.
Current research suggests that to make a habit stick it must be performed for 68 consecutive days. The idea of sticking with something brand new for 68 days may feel overwhelming for some people. When taking on a new challenge, focusing on taking it day by day might be a helpful mindset. Yes, we might be aiming to create a lifelong habit; however, thinking about just starting a habit to last for years could seem daunting. Start by doing it for one day, and then two, and then three, and so on.
Once you feel comfortable with one small change, add another small change, and so on. Small changes are more sustainable over the long term and add up to form new habits. There will likely be days that your plan doesn't work out how it was supposed to, but that doesn't mean all progress is lost.
The Takeaway
Our bodies adapt gradually to exercise. In the end, consistency will help you reach your goals. Without it, you might not have enough structure to allow for growth. Work first on figuring out your goals, determine the best route to achieve them, and get started with one step. If you're not sure how to get started, the trainers at NIFS can help you set goals and develop programs tailored to those goals.
This blog was written by Hannah Peters, BS, CPT, Health Fitness Instructor. To learn more about the NIFS bloggers, click here.