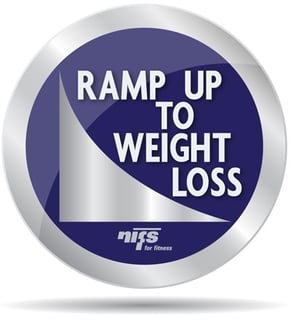 Ramp Up to Weight Loss is a program designed to do exactly what the name suggests: ramp you up to weight loss. It's a 16-week program that provides various tools to help you get a head start on achieving your goals. These tools include meeting with a Registered Dietitian, attending coaching sessions to help set and manage goals, and meeting with a trainer twice a week to walk you through workouts. As a weight-loss member, you also have access to the facility and group fitness classes every day. These resources are what makes Ramp Up one of the most popular programs at NIFS.
The Goal: To Teach You How to Reach Your Weight-Loss Goals
The ultimate goal by the end of the 16 weeks is to make sure you feel confident in your own abilities to continue the journey that you are on. Whether you are struggling with nutrition, knowing what to do in the gym, sleep, or stress management, this program provides resources to teach you how to handle these situations in ways that will aid you in achieving goals. We start by setting one long-term goal, then break it down into short-term goals to act as stepping stones to get there. After all of the goals are finalized, we look at what action steps can be taken to achieve them. Setting realistic goals is essential for staying on track, and reaching them builds confidence in your abilities.
Weight loss is not always an easy thing to achieve. It can be a very slow process full of trial and error, ups and downs, and frustrations. There's not a magic solution that will work for everyone. But, by tackling weight loss from multiple angles—including fitness, nutrition, and behavior—we can figure out what works best based on the individual.
After the Program: Long-Term Membership
So, 16 weeks have passed and you've successfully attended all your sessions, received nutritional guidance, and mastered goal setting. However, you're not quite ready to be on your own yet. After Ramp Up, you can opt to become a long-term weight loss member. This program never expires, and you get one session a week with a trainer, assessments every three months, and coaching sessions. You still have access to the facility and all of the group classes. It's an extra step to help you transition into continuing the journey on your own.
As trainers, we want not only to teach you how to work out safely and effectively, but to help you build the confidence and knowledge to be able to do it on your own. Being able to independently work out and make healthy choices is essential for long-term weight loss and maintenance. By taking advantage of all of the resources over the course of the program, you can discover what helps you live a healthier life.
This blog was written by Hannah Peters, BS, CPT, Health Fitness Instructor. To learn more about the NIFS bloggers, click here.