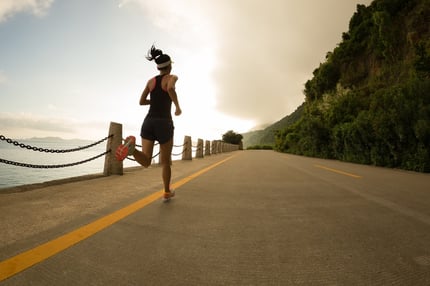 Running a marathon can be a very positive, rewarding experience or a very painful, negative one. THE CHOICE IS YOURS!
How I Got Started with Marathons
I began running as a feel-good stress release in 2009, but never knew that stress release would turn into my stressor. After my mom was diagnosed with breast cancer, I turned to running at times to just get away from my daily life for a few moments and enjoy some fresh air and a good sweat. I loved this workout a few times a week.
In 2016, I was ready to set a goal. I signed up for my first half marathon, but forgot to sign up for a training plan to go with it. As my mind was set to long distances to achieve my goal, I began running more and more. Before I even completed my half marathon, I realized I was ready to do a full marathon, so I signed up spontaneously to run 26.2 miles and completed my first marathon in Washington, D.C., in February 2016. Two months later, I crossed the finish line of a half marathon, which was my original goal.
If you were to ask me how I felt about my experience, I'd honestly tell you: painful, awful, and sore. Thankfully I didn't get any injures, but like most runners, I ran a lot and neglected cross training, because I preferred the "runner's high."
Why I Quit
I continued this training process through 2016, and by the end of that year I was done and burnt out. My body was depleted of important nutrients, my muscles were constantly sore from neglecting proper recovery, and I never knew how much mental tension I had been putting myself through by pushing my body to get what I thought was "faster and stronger."
In 2017, my running for hours had now turned into recovering for hours. I picked up a consistent yoga practice, started meditation classes, was visiting a doctor to replenish my depleted body, focused on strength with pilates and circuit training classes, and was only doing low-impact cardio.
How I Got Back into Running—the Right Way
As I began stressing out my body less, my passion for running was still in the back of my mind. In 2018, I began running long distances again, but with newly gained knowledge of proper fuel, proper recovery, and proper cross training. It's so weird waking up not sore after a long run, or enjoying friends and family instead of wanting to sleep all the time due to fatigue, and I love it!
Practicing mindfulness is so important when setting a big goal. In society, we often want to get to the reward faster instead of enjoying the process in the present. Attempting to run a half or full marathon does not have to be a painful experience. Running a half or full marathon does not have to result in injury and burnout. The choice is yours!
Tips for Running
So, don't be afraid if your goal is to run a half or full marathon. Train with the people who have experienced the not-fun, painful part of running and want it to be filled with fun based on knowledge and past experience. The choice is yours to set your goals. The choice is yours to listen and follow your coach to achieve those goals.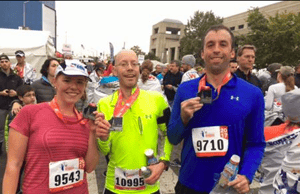 NIFS Fall Marathon Training Program prepares you for the Monumental Marathon on November 3, 2018 by providing you with a 12-week training program and weekly long runs with a training coach. Training starts August 15th-November 3rd. Wednesdays 6am OR 6pm and Saturdays at 7am. Find out more and get registered today!
This blog was written by Brittany Ignas, BS in Kinesiology, 200 Hour Yoga Alliance Certified, Stott Pilates Certified, and Fitness Coordinator. To find out more about the NIFS bloggers, click here.