We've waited for this time for months, where there is no more snow and plenty of sunshine. Long days of outside fun, no kids in school, road trips and vacations—what more could we ask for?
But, baby it's hot outside! Don't let the heat cause you to lose your momentum. You can still keep working hard during the summer time; you just have to adjust a little. Keeping the following summertime fitness tips in mind will help you continue to get stronger and healthier.
Try water workouts.
Choose water workouts and aqua fitness, and make a splash as you get fit and strong. You can even improve your performance in the heat by lowering your body temperature in the pool before heading outside.
Use the shade.
It's smart to move your workouts to a different location to avoid overexposure to the sun. If you are a runner or a biker, try a route in a wooded area.
Get proper hydration.
Drink plenty of water before, during, and after exercise. The last thing you want when exercising is for the summer heat to take over. Avoiding caffeine, which forces water out of our systems, is also a good idea. Here are some more tips for getting hydrated.
Choose your clothing carefully.
It is important now more than ever to wear clothing that will move sweat away from your body and help it evaporate quickly. White or light-colored clothing reflects the heat better than darker clothing.
Monitor your heart.
The heat places greater stress on your heart. Be sure to keep an eye on your heart rate as you work out in the heat. Take a break if it starts to spike or get too high.
Beat the heat.
Try beating the heat with an earlier workout time. UVAs are the strongest between 10am and 3pm. Make every effort to minimize your workout outdoors during those hours.
Sunscreen is a must.
Use a stronger SPF just to be safe. It's important to protect your skin.
Stop if you're feeling faint or sick.
If you are feeling faint or sick, stop working out immediately. Sit down in the shade, drink water, and always have a nourishing snack available.
Know the symptoms of heatstroke.
Heatstroke is a serious threat that can be fatal. Symptoms include high body temperature (104 degrees or higher); absence of sweating with hot, flushed, or red/dry skin; rapid pulse, difficulty breathing; strange behavior, hallucinations, confusion, agitation, or disorientation; and seizure.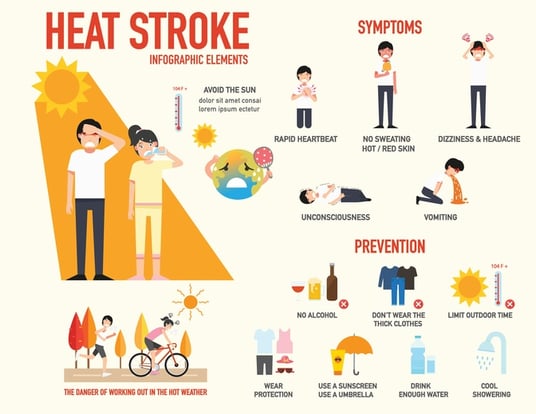 Hit the gym.
You may find that the best thing to do is simply to stay inside the gym to get your workouts in during the summer. It's a great time to work on form, increase intensity with no worry of heat exposure, and plan out a new, exciting routine.
This blog was written by Ashley Duncan, Weight Loss Coordinator. To find out more about the NIFS bloggers, click here.