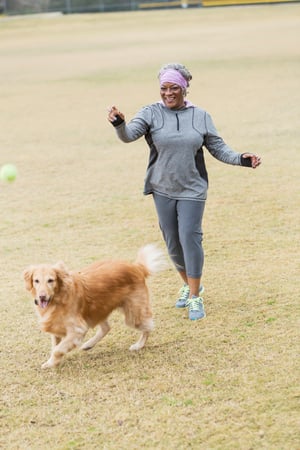 If you're trying to lose weight, you've probably started exercising, maybe you're trying a new diet, and maybe you've been super consistent for months now, but nothing's changing. You feel like you're doing everything right, but you haven't seen any changes on the scale. How can this be? Weight loss is all about diet and exercise, so why aren't the pounds just falling off? Research suggests there's more to weight loss and weight management than diet and exercise alone.
Total Daily Energy Expenditure: The Calories You Burn
Throughout the day our bodies expend energy in the form of calories. The components of Total Daily Energy Expenditure (TDEE) include Basal Metabolic Rate (BMR), Thermic Effect of Food (TEF), and Physical Activity (PA). BMR accounts for about 60% of total daily energy expenditure. This is the amount of calories a body burns at rest. People who have increased muscle mass will have a higher BMR because of the amount of calories muscles use, even at rest. This is one reason why strength training is important for weight loss.
TEF results in roughly 10% of TDEE. This includes chewing food, digestion, absorption, and all other processes that go into consuming and processing food within the body.
The remaining 30% of TDEE is physical activity, which then gets broken down into exercise activity thermogenesis (EAT) and nonexercise activity thermogenesis (NEAT). EAT accounts for about 5% of TDEE, while NEAT can contribute as much as 15%.
NEAT vs. EAT
NEAT are the little movements or tasks you do throughout the day, but are not considered moderate to vigorous exercise. This can include walking, taking the stairs, vacuuming, doing the dishes, playing fetch with the dog, talking, standing, tapping your foot, cooking, yard work, and so on. These small tasks vary from 50 to 200 calories per hour. All of these small movements can add up to a significant caloric deficit. On the other hand, EAT is the exercise-type activities like running, weight lifting, and so on.
Exercise is encouraged in weight loss because it can increase muscle mass, improve mood, encourage movement, and so many other benefits. However, if your workout is one hour long and you sleep for 8 hours, there's still 15 hours of the day in which you might be completely sedentary, which is not ideal for weight loss.
We live in a society that encourages sedentary behaviors throughout the day, for example, working in an office. Meanwhile, over half of leisure time is spent watching television. This means that Americans are spending the majority of their time completely sedentary. This is thought to be one of the causes of the obesity epidemic in the United States.
What Does This All Mean?
To be clear, increasing NEAT activities is not a replacement for exercising. Structured exercise of moderate to vigorous intensity for 150 to 300 minutes a week has countless benefits that have been researched over and over again. However, in overweight and obese patients, adherence to workout programs shows low long-term success. And those who do show success initially seem to gradually gain the weight back. Instead, replacing sedentary behaviors with NEAT-type activities can boost energy expenditure throughout the day while maintaining long-term adherence. Not only is NEAT easier to maintain, but the amount of NEAT activities seems to increase over time.
Overall, weight-loss programs should focus on a healthy diet, a structured workout program, and strategies to decrease sedentary behaviors to increase NEAT. Although the full mechanisms of NEAT still need to be explored in research, there's plenty of evidence to prove that decreasing sedentary behavior may aid in weight loss when combined with diet and exercise.
For some ideas of increasing NEAT at work and at home, check out this blog.
This blog was written by Hannah Peters, BS, CPT, Health Fitness Instructor. To learn more about the NIFS bloggers, click here.