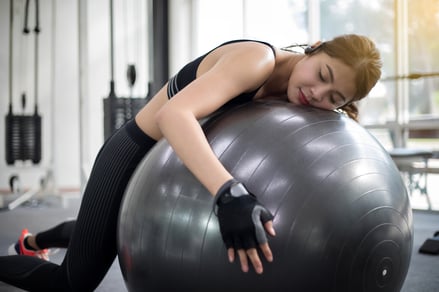 One of the most critical things we do for our health is sleep. Without sufficient sleep, we risk impairing cognitive function, developing chronic diseases and mental disorders, and even an early death.
There's a lot about sleep that remains a mystery to science, but what is known is that it plays a major role in consolidating memories, cleaning metabolites from the brain, and allowing the nervous, skeletal, and muscular systems to repair themselves. Good sleep is essential for our bodies to thrive, but 30 percent of employed adults have reported 6 or less hours of sleep per night, when the recommended amount is between 7 and 9 hours. Hormones directly involved in the sleep cycle also play a critical role in health, so it's important to maintain a steady sleep schedule to prevent these hormones from becoming imbalanced. One of the hormones that plays a role in sleep is melatonin, and this blog will focus on its effects on sleep as well as metabolism.
The Physiology of Melatonin
The physiology of melatonin is a complex subject, and research to discover its mechanisms and effects is ongoing. However, I will explain some of the things we know to be true about melatonin and why it may be important for you.
Melatonin is a hormone made in the pineal gland when it gets dark outside. When melatonin levels increase in the bloodstream, you begin to feel less alert and more sleepy. Although a major function of melatonin is to encourage sleep, it has a huge impact on metabolism. Some of the functions are these:
Regulates energy expenditure.
Potentiates various actions of insulin.
Regulates glycemia (blood glucose) and lipidemia (blood lipids).
Manages circadian synchronization of insulin secretion, synthesis, and action; hepatic (liver) metabolism; white adipose tissue metabolism; and skeletal muscle metabolism.
Regulates energy flow to and from storages.
That's a lot of responsibility for one hormone. Whereas a lot of these functions are significant, what's most important to understand is that melatonin balances energy expenditure by controlling the flow between energy stores. It has a direct impact on the browning of white adipose tissue, which is a way for the body to regulate body weight. This works because the function of brown adipose tissue is heat production by burning large amounts of calories. It also plays a major role in regulating glucose tolerance and insulin sensitivity. When melatonin levels are normal, all of these essential functions can be carried out.
Chronodisruption
Chronodisruption is what occurs when melatonin production is impaired. This can be due to illumination such as lights turned on inside when it's nighttime, working the night shift, or aging. All of the functions listed above become disrupted and no longer work efficiently. This disorganization can lead to metabolic diseases and obesity.
The best thing to do if you think you may be experiencing chronodisruption is to talk to a doctor. They may encourage you to try melatonin-replacement therapy, because there have been some successes in various research studies, or help you find a healthier sleeping routine.
Top Takeaways About Sleep and Weight Management
Melatonin is a huge contributor to overall health and metabolism. If disrupted, your whole body can feel the consequences. It might seem like the most important thing to do for your health is healthy eating and exercise, but sleep may be at the top of the list. Without adequate sleep, our hormones lose balance, our mental capacity is reduced, and our overall health is negatively impacted.
This blog was written by Hannah Peters, BS, CPT, Health Fitness Instructor. To learn more about the NIFS bloggers, click here.