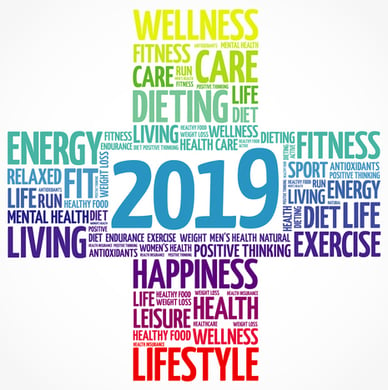 Happy February 2019! Are you a "New You" yet?
It seems to be a trend. Every year on January 1st, people set their minds to being something new or different. Personally, I am not a fan of this negative mindset that usually leads to a negative outcome or a "failed attempt" by February 1st. When you look at your life as needing to become new, you are looking at your past as not good enough. That is the furthest thing from the truth! Everyone's experiences in life are different and shape us to be the person we are today. You are amazing as you are.
This year I have been teaching and challenging people to not be anything different or new, but to find ways to enhance themselves based on their goals and habit changes. Do you want to be stronger? Want to live a healthier lifestyle? Want to read more? Want to stress less and be happier? Want to sleep better or more? Want to spend more time with friends and family?
Your options are endless, but it all starts by accepting the place you want to be in life and mapping out a game plan to help you achieve what you want. So take out your pen and paper and start writing these questions and answering them honestly:
What do I love about my life?
What habits do I want to change?
What can I do to replace these habits with healthier options?
With the goal also comes the challenge. What things have been holding you back from getting to your goal? Negativity, judgment, and self doubt are the number-one reasons we don't accomplish what we want to in life. So take out your pen and paper again and answer these questions honestly. It's not easy, but it's the first step to success:
Write three positive words to describe yourself.
What brings out negativity in your daily life?
How can I live with less negative and more positive?
What do I want to accomplish in 2019?
My Story
At age 21, I had just graduated from Indiana University with my B.S. in Kinesiology and two fitness certifications. I did this in three years (because I didn't want more student loans), I worked a full-time job and taught three group fitness classes at the student rec center just to build my resume. At the same time, my mom had colon cancer, and I was making frequent trips home to spend time with her.
After college, my mom was recovered and I knew I wanted to go one place, New York City. I will never forget calling my parents and telling them I was moving to New York a week after graduation and had already signed my lease and found a roommate. Not just that, I had already been given a job at the top gym in New York, Equinox, after sending my resume to more than 20 employers. The job started off at just minimum wage, but I was ready to accomplish my dream. Upon moving, I printed more resumes, knowing I'd probably need another job to get by with the expense of the city. I walked door-to-door to fitness and yoga studios, meeting managers and handing them paper copies of my resume.
I got a job at Pure Yoga, one of New York's top yoga studios, working at the front desk. From there my New York City journey just kept going up. I kept introducing myself to new people, expressing my goals, and slowly working my way up until I was a full-time yoga and Pilates instructor making almost 6 figures and living in the heart of Manhattan, five blocks from Grand Central Station. I never would have thought that would be my life.
I then decided I was ready to achieve more goals, and the next step in my plan was to learn about the business of fitness. My career was great, but my stress level from the New York City lifestyle was even greater. I wanted a change of pace, so I applied for a job in Austin, Texas, to manage a boutique fitness studio—and to my surprise, I got it. In 2017, I moved to Austin and took on a new title and a new job, and was eager to achieve a new goal. After six months of being there, I reevaluated my life. What I thought would bring me more happiness was actually now bringing me a new experience. I realized living so far from my family was causing me negative thoughts, living alone was causing me sleeplessness, and my lack of sleep was causing me to make unhealthy choices. This was not the lifestyle I wanted to pursue.
In 2018, I made the decision to move back to Indiana. My goal to learn about the business of fitness continues as I am now the Group Fitness and Program Coordinator at NIFS.
THE MESSAGE: Enhance Your Life with the Right Mindset
My goals are often big, because that is my personality. Regardless of your goal it's about the mindset of not giving up, and constantly changing little things to enhance your life until you find the right fit. The year 2019 is just getting started, so evaluate and set your mind to goals that you can look back on with a positive smile in the future. Your options are limitless!
This blog was written by Brittany Ignas, BS in Kinesiology, 200 Hour Yoga Alliance Certified, Stott Pilates Certified, and Fitness Coordinator. To find out more about the NIFS bloggers, click here.