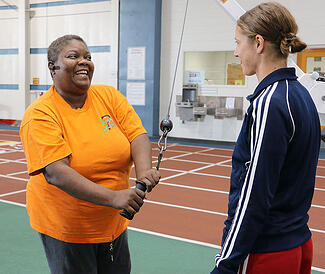 I'd like to take a few moments to highlight a member of the NIFS Lifestyle Program. This program provides extra guidance and observation to individuals with chronic medical concerns. NIFS's Lifestyle Coordinator communicates with the participant's physician about their progress and helps them plan workouts geared to their specific medical needs. Take a few minutes to read about Kim Flowers and learn how this program has changed her.
SHARE YOUR STORY OR A BIT ABOUT YOURSELF IN A FEW SENTENCES:
I am 48 years old and have been a member of the Lifestyle/Scholarship Program at NIFS for about five months. Currently I am on dialysis three times a week and am awaiting a kidney transplant. Due to diabetes I lost my leg, but I am coming to NIFS to turn all of this around and get healthier in all aspects of my life! My goal is to get back to work as a social worker once I receive my kidney.
SOMETHING YOU HAVE ENJOYED ABOUT BEING IN THE LIFESTYLE PROGRAM:
I have enjoyed getting out of the house and learning different ways to exercise. Even with the limitations that I have physically, I have enjoyed seeing how much I am able to do that I didn't think was possible. Working out, something that I have not done in the past, is giving me more overall energy. It is helping me to get stronger, and helping me in my everyday tasks, which sometimes are difficult with a prosthetic.
SOMETHING THAT YOU HAVE LEARNED OR SURPRISED YOU:
After getting my general fitness assessment, I learned and was surprised at the amount of fat I have in my body and that could cause me to have serious health issues. I am learning ways to work on getting my body fat to a more acceptable level.
FAVORITE THING TO DO FOR A WORKOUT:
All of it! I really do enjoy everything that we do. Though some things are harder than others and really stretch my abilities, there is not one thing that Amanda has me do that I don't like. I really enjoy working out with Amanda and it has made a difference in my life.
ACCOMPLISHMENTS SO FAR:
I am able to do exercises that I was not able to do in the beginning. I have also increased my endurance. Being on dialysis and having a prosthetic makes it challenging to keep up my heart health, but I can tell when I am walking that I am able to last a lot longer than I could before*.
*Weight loss claims and/or individual results vary and are not guaranteed.
THINGS LEARNED FROM YOUR TRAINER ALONG THE WAY:
I have learned about better eating habits, how to use the machines at NIFS correctly, and how to make exercise a part of my life.
WHAT KEEPS YOU MOTIVATED:
This is something that I want and that I know I need to do in order to help myself. It is helping me to take steps to my goal of getting my kidney and starting a new life.
I have really enjoyed being a part of the Lifestyle/Scholarship Program at NIFS. I am so thankful for the opportunity to participate in something that without others' help I would not be able to do. Even once I hit my goal, I want to keep going! I want to say thank you to every person who helps to make this program possible.
NIFS Lifestyle/Scholarship Program
One component of the Lifestyle Program is that there is a scholarship opportunity for those involved. Many of these people have physical limitations and are unable to work. NIFS has a scholarship fund on a needs basis, allowing participants the opportunity to get the help and guidance they need. Currently NIFS funds 16 scholarships to program participants.
To help sustain our current scholarships and increase the opportunities to fund additional ones, NIFS organizes an annual auction. We need your help to continue to provide this gift to those who need it! Please consider bidding in the seventh annual online auction.
Visit the auction website beginning November 24 at 8:00am and concluding on December 15 at 8:00pm and see what great items you can bid on!
For questions about the Lifestyle Scholarship program or the online auction please contact Amanda Bireline at 317-274-3432 ext. 219 or abireline@nifs.org.
This blog was written by Amanda Bireline, Lifestyle Program Coordinator and Health Fitness Specialist. To find out more about the NIFS bloggers, click here.