For the month of May, we are highlighting Boot Camp as our group fitness class of the month. Have you outgrown some of the group fitness classes and want to take your training a step forward? Boot Camp may be just the thing you've been looking for to do that. This class is both challenging and exhausting, consisting of a 60-minute total-body workout. Let's take a look at the benefits, class design, and who it best suits.
What does a Boot Camp class look like?
This is a good question, and the answer is simple: sweaty, exhausted people who need to jump into the shower immediately! Boot Camp takes place inside NIFS during the winter or stormy times; or often Steven, the class instructor, will take it outdoors. During the warmer months of the year, you will find Steven and his class along the Canal, downtown at the Indiana War Memorial, working out in White River State Park, or someplace around town that they find useful tools to utilize for their workout, all while getting a nice tan.
The format of the class typically involves some cardio, usually running or stairs and strength work like pushups, squats, lunges, and pull-ups. This class would fall into the categories of high-intensity, fast-paced resistance and endurance training.
Watch video.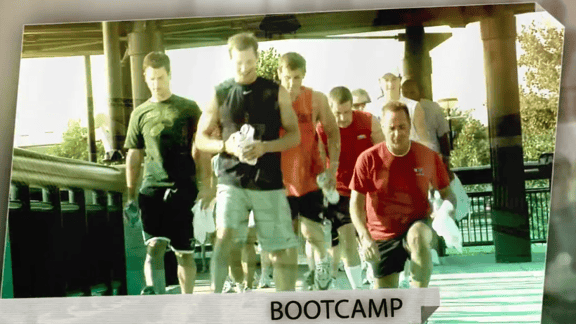 What is it good for?
Boot Camp is beneficial in lots of different areas of the fitness realm: cardio, strength, calisthenics, social interaction, and the never-give-up mental attitude that we all need to have! Also, often it takes place outdoors because it's good for everyone to get out occasionally and see nature (unless the mosquitos are biting).
This class helps those who feel they have outgrown some of the other group fitness classes and really need to take their fitness up a notch. You will benefit from the high-intensity workouts that boost your cardiovascular endurance and overall strength—not to mention, Steven has a good group of folks who love working out together and interacting socially.
I'm new to exercise; is this class for me?
While we never want to exclude anyone from our classes, it would be wise to work your way up to this one if you are a first-time exerciser. The goal at NIFS is to get everyone comfortable and confident in their workouts and not leave anyone discouraged. If you feel you are physically fit and ready to raise the bar a little bit on your own workout standards, this is the class for you to try next. If you are uncertain whether it's too much, just show up a few minutes before class time and talk with Steven to guide you in the right direction.
Click here to see our full group fitness schedule and when classes are offered.
This blog was written by Amanda Bireline, Fitness Center Manager. To learn more about the NIFS bloggers, click here.