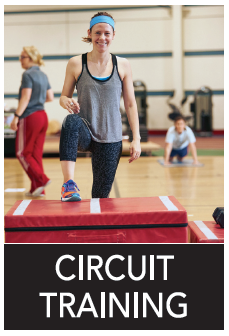 To achieve electricity, you need a complete circuit; the same thing goes for achieving a higher level of fitness, which is why circuit training is a great total-body workout. It can be classified as a type of endurance training, resistance training, strength training, or high-intensity interval training, which is why we can see great results from it.
Circuit training is great for activating all of the muscles in the body. Typical circuit training is performed in a style of circuits. You will complete one exercise for a duration of time, and then switch to a new exercise and repeat the total circuit multiple times. During each circuit, you'll perform upper-body, lower-body, and core exercises for maximum body results. Baylor University did a study proving that circuit training is the most efficient way to enhance cardiovascular and muscular endurance.
Endurance Training
Endurance training is the ability to exert yourself over a period of time. It's also the ability to complete any aerobic or anaerobic exercise relating to cardiovascular and muscular endurance. Cardio endurance allows you to pump oxygen to your body for an extended period of time. This type of training is great for your overall health. Some of the benefits include the following:
Higher levels of energy
Heart function improvement
Increased metabolism
Performing daily life tasks more easily
Resistance Training
Resistance training is muscle contraction from external resistance during exercises. The external resistance can come from many pieces of equipment, including weights, bands, balls, boxes, disks, sleds, and definitely using your body weight. Benefits of resistance training might include the following:
Help keeping muscles strong during aging
Decreased osteoporosis
Lower blood pressure
Increased metabolism

Strength Training
Strength training is lifting heavier weight to increase muscular strength. Benefits of strength training include the following:
Lower abdominal fat
Better cardiovascular health
Controlled blood sugar
Reduced cancer risk
Lower risk of injury
Stronger mental health
Osteoporosis prevention
Increased confidence
High-Intensity Interval Training (HIIT)
High Intensity Interval Training is a workout that alternates between intense bursts of activity and fixed less intense or rest periods. This type of workout is typically known as a "fat blaster" filled with many benefits that include the following:
Efficiency
Cardiovascular strength/endurance
Muscular strength
Weight loss, muscle gain
Increased metabolism
Can be done anywhere
So Why Circuit Train?
Circuit training is not just an exercise that can burn hundreds of calories. Based on the benefits of the types of training a circuit training class is made up of, it can lead to major results in total fitness and health. You can find circuit training on the NIFS Group Fitness Schedule with our highly educated staff Mondays, Wednesdays and Fridays at 4:30pm.
This blog was written by Brittany Ignas, BS in Kinesiology, 200 Hour Yoga Alliance Certified, Stott Pilates Certified, and Fitness Coordinator. To find out more about the NIFS bloggers, click here.