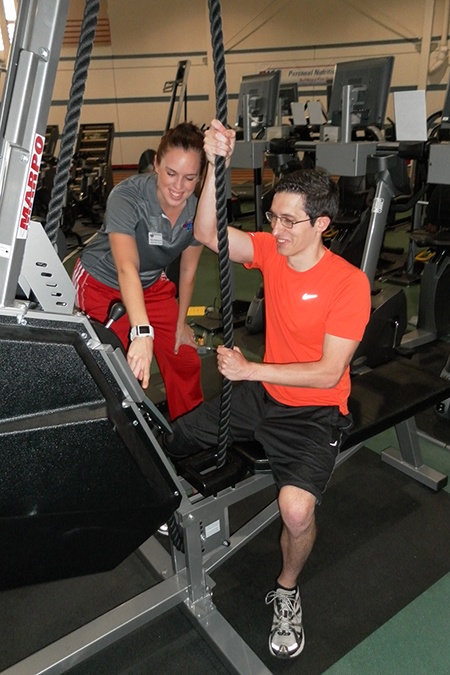 It's that time again, everyone. Fall is upon us and the holidays are approaching… and what better way to start them all off than with NIFS' 8th Annual Online Auction? The Online Auction was created to help sustain scholarship opportunities for some of the members of the NIFS Lifestyle Rx Program.
The Lifestyle Rx Program provides extra guidance and observation to individuals with chronic medical concerns. A NIFS's Lifestyle Coordinator communicates with the participant's physician and helps plan workouts geared to his or her specific medical needs. The scholarship component of the program is determined on a needs basis and allows for some participants who are unable to work, due to their physical limitations, to come in and get the help and guidance they need at NIFS.
I would like to highlight a current member of the Lifestyle Rx Program. Please take a few moments to read about Burt Halstead and how this program has helped him stay motivated.
CAN YOU SHARE A LITTLE BIT ABOUT YOURSELF AND WHY YOU JOINED NIFS?
I joined NIFS because I had just been released by my neurologist to get back into exercising/working out after a brain surgery as well as a neck surgery in the last couple of years. It is the easiest gym for me to get to because it is so close to where I live.
WHAT ARE A FEW THINGS YOU HAVE ENJOYED ABOUT BEING IN THE LIFESTYLE PROGRAM?
I have really enjoyed getting in a good exercise and workouts on a daily basis again. NIFS really worked out great for me because I wasn't exactly sure of all the exercises I would be able to do as I eased back into exercising again. There was always someone there to make sure I could do all of the programs they had set up for me before releasing me to do it on my own.
SOMETHING YOU HAVE LEARNED OR THAT SURPRISED YOU?
Something that really surprised me was how much better I feel about myself just by getting back into the gym on a daily basis and doing the programs that my trainers have set up for me. For a long period of time I was spending most of my time in bed due to medical reasons. When I was able to get out and do things again, I had a hard time finding things to do daily, as I am still waiting for the "okay" to get back into school and work.
WHAT ARE SOME OF YOUR FAVORITE EXERCISES CURRENTLY?
My favorite exercises are the rope pull, rope pull upwards, and the cable cross wood chop. I am always a little exhausted after I do these exercises.
YOUR BIGGEST ACCOMPLISHMENT SO FAR?
I would say my biggest accomplishment has been maintaining my workouts nearly every day. When I first got involved in this program, I wasn't sure how well it would work out for me, if at all. I was probably only going two or three days a week at first, as I was still a little uncertain if it would work out.
THINGS YOU HAVE LEARNED FROM YOUR TRAINER(S) ALONG THE WAY?
My trainers have helped me set up programs using machines and made sure I was using all of the machines or super-band exercises correctly, as I had never really used them before. I had always used free weights, and now free weights are less of an option. It was nice to have someone to make sure I was doing everything correctly as I went through them for my first time.
WHAT KEEPS YOU MOTIVATED?
I would say the thing that keeps me motivated is the ambition exercising at NIFS has given me again. Before all of my medical issues I always worked hard to be the best I could be at whatever I was doing (sports, academics, exercising, etc.). Thanks to my trainers at NIFS, I have found that motivation again. It has helped boost me physically, socially, and emotionally*. I'm not sure the trainers that I've been working with really understand how much I appreciate all of their hard work.
*Weight loss claims and/or individual results vary and are not guaranteed.
Auction Information
Our Online Auction begins Monday November 23 and runs through Monday December 14 at 8:00pm. There are a lot of great items to bid on that everyone can enjoy so get your bid on today!

For questions about the Lifestyle Rx Program please contact Rebecca Newbrough at 317-274-3432 ext. 263 rnewbrough@nifs.org.
This blog was written by Rebecca Newbrough, Lifestyle Program Coordinator and Health Fitness Instructor. To find out more about the NIFS bloggers, click here.