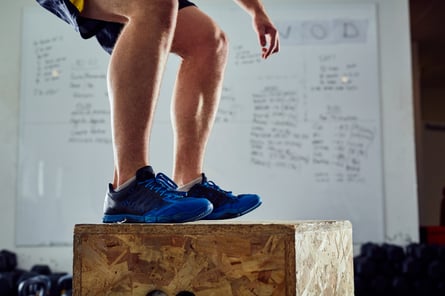 As an athlete there is no substitute for the ability to produce power and be explosive during your sport. From competitive weightlifters and NFL-caliber football players to distance runners, producing (and absorbing) high impacts is crucial for succeeding in your sport as well as staying healthy throughout your competition season. Are you incorporating any of these exercises into your current program?
Creative Movements
Finding plyometric, or more simply "plyo" exercises, has become relatively easy. They have become one of the staples of social media and other internet posts because of their ability to morph into unique movements that will get many likes and retweets. Many performance coaches are looking to become the first person to introduce a movement or show a variation that no one has seen, and plyo exercises allow for a lot of creativity to fit a certain sport or activity.
But should you choose a movement you have never seen and implement it into your program? My answer? It depends. The movement may benefit you in some way, but you must also ask yourself whether it is training a specific area that you are targeting and whether the movement itself is safe. Plyo exercises are meant to be very explosive. They are designed to tap into the high potential of the motor units of the muscle fiber, which are essentially the driving forces from the brain to the muscle. The goal is to reach these high levels of effort (85–100%) during repeated bouts, with the goal of the body adapting to those high levels with an increased recruitment of those high-level motor units. The more we express their abilities, the easier it becomes for us to do, leading to more power.
Injury Prevention in Plyometrics
Now you have to ask yourself a question: Can you perform a movement at full effort while being safe? If you are unsure, here are a few building blocks to consider when choosing a movement.
The Landing
Whenever I teach lower-body plyo movements, the first thing we learn is the landing. Regardless of the sport, landing on the ground always presents a potential risk due to the heavy forces that are coming down. Always be aware of your knees and make sure they are always stable when your feet hit the ground. Avoiding an inward collapse of the knees is a great place to start by making sure your hips are engaged, which will increase the stabilization of the knees.
A good place to start is a simple Box Drop drill. Step up onto a box that is about 12–18 inches high. Step off and land on the ground with flat feet, knees outward with a slight forward lean of the chest. This will start the healthy promotion of safe and soft landings.
Effort
I touched on this above, but effort is a nonnegotiable variable during plyometric movements. Your body and muscles have to have a reason to increase their power-producing capabilities. If you approach a plyo exercise with low effort or the "going through the motions" mindset, it will be a waste of time. For example, say you have a maximal broad jump of 10 feet. During training, the ideal distance you would jump might be around 8+ feet depending on the number of repetitions you are going for. Do you think that jumping to 5 feet during your training sets would tax your body to make improvements on that maximal 10-foot jump? Unlikely. Train with high effort and energy and you will be rewarded.
Simplicity
My final building block is to not overcomplicate things. It is so easy to get caught up in doing an exercise because it looks similar to movements you might perform on the field or court, but my advice is to step back and ask yourself whether there is more thinking involved during the movement, or are you allowed to focus on one aspect and give all you have for the sets and reps you are going for. If a plyo exercise you find has 3, 4, 5, or more aspects, "paralysis by analysis" will definitely kick in. Choose movements that do not require a lot of thinking and allow you to attack every rep.
BE POWERFUL!
This blog was written by Alex Soller, Athletic Performance Coach and NIFS trainer. To find out more about the NIFS bloggers, click here.