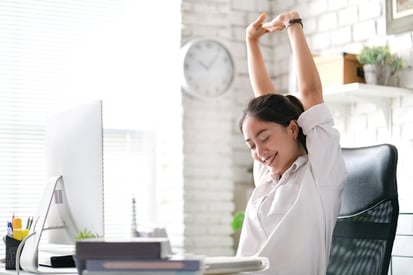 "Stand up straight!" and "Don't slouch!" are just a couple of variations on the same advice we've all likely heard at least once. I apologize if I'm bringing up bad memories of being scolded for less-than-perfect posture, but this read might give you a few reasons why those remarks might have been useless after all. That's right, folks. We're diving into the widely covered topic of posture: What it is, whether there is such a thing as "good" posture, and what you can do to optimize your posture at any given point.
What Is Posture and How Is It Related to Movement?
If you look up the definition of posture, you'll find different definitions depending on where you look. One, from Oxford, says "The position in which someone holds their body when standing or sitting." Another variation, from Merriam Webster, says it is "The position or bearing of the body whether characteristic or assumed for a special purpose." Which one is correct? Well, I'm not sure either is incorrect, but I do have a preference for the Merriam Webster version. Why? Because it assumes that your posture at any given time is serving a particular purpose, whether that's standing, sitting, walking, picking up an object, or performing any other bodily movement.
Your posture is ever-changing depending on the task you need to perform, so we might be missing the point entirely by getting caught up in analyzing a snapshot of what your posture looks like while you are sitting or standing still. As it turns out, it's fairly difficult to agree on what the ideal static posture actually is. Given the variance in how different individuals' bodies are built, it seems pointless to assign a perfect static posture across the board. Not to mention, there is little evidence that supports the claim that "bad" posture or asymmetries put you at greater risk for pain. Perhaps our thought process is backward. What happens when you have pain in your back? Your posture changes! Wouldn't it be reasonable that consistent, chronic pain could be the cause of postural adaptations that become your new normal?
Maybe our efforts should initially be focused on moving very well in a variety of ways. Moving well means maintaining the position of your body throughout a given movement or task. If you can train to move with quality in a variety of situations, it might allow for new options for movement to complete a given task, instead of repeatedly compensating. Having a variety of movement options available to you can prevent a default to the same repetitive movement patterns over and over again.
Increasing Your Movement Options
So, how do we increase the amount of movement options that are available to us? Practice, practice, practice. Yes, the dreaded p-word. The only way to learn something is to repeatedly do it, and do it correctly. And then do it correctly again. And again.
How do you know if you're moving correctly? Have somebody watch you, of course. Without the guidance of an experienced professional who is competent with how the human body should move—whether that's a physical therapist, personal trainer, strength coach, or other professional—you will have no outside perspective on what your body is actually doing.
Take something as simple as foot position. Just recently, I corrected somebody's foot position from being "pigeon-toed" to being more "neutral," with the toes pointing straight ahead. "I feel like my feet are duck-footed now!" I heard her exclaim. This is a common occurrence. When correcting somebody's position to be more appropriate for the goal of the task, all of a sudden they feel way out of line. When your body resorts to only one option to complete a variety of movements, exposing it to a brand-new option will feel completely foreign.
Even those of us who are trained in technically correct strategies for movement can't view ourselves from the outside. So, either we need to analyze some video footage, or more appropriately, employ an outside source as an unbiased third-party reviewer to say whether we're moving the way we should.
Get a Movement Assessment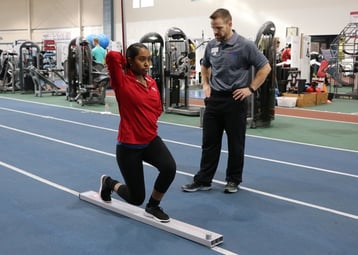 If you're generally healthy and pain-free, you can consult with a competent trainer to do some sort of an assessment on your strategies for movement. Each individual uses preferred methods to assess movement, whether that is a Functional Movement Screen like we offer here at NIFS, a more general flexibility screen, or an even more in-depth orthopedic analysis. All have their limitations, but you can learn a lot if you know what to look for, regardless of the testing system.
One of my favorite big-bang movement assessments is watching somebody march in place. I have an opportunity to watch the strategy they use for shifting weight back and forth between sides, I can see somebody's ability to extend one hip while flexing the other hip under the load of gravity, I can assess an individual's thorax position during this activity, and I can even watch what's going on with the upper extremities in response to a stepping pattern.
As long as the observer knows what to look for, the test or system of analysis becomes less important. What does take priority is the ability of your trusted expert to provide you with the strategies you need to maintain your position, or posture, throughout your daily life. Ultimately, however, it is up to you to employ those strategies and, yes, even practice them consistently so they can become your new normal, as if movement dysfunction never even existed!
To schedule an FMS with a NIFS certified instructor please click below to learn more.
This blog was written by David Schoch, CSCS, and FMS. To learn more about the NIFS bloggers, click here.