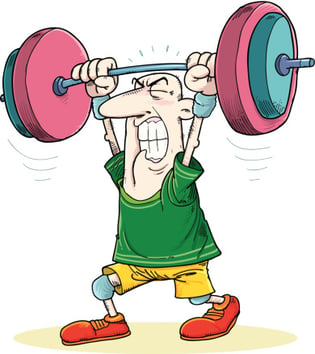 A recent study published in the British Medical Journal (BMJ) looked at the winners of the past Darwin Awards. These awards are given to people who die in an idiotic manner, thereby insuring the long-term survival of the human species by removing themselves from the gene pool.
The study examined 318 cases. Of them, 282 (or 88.7%) were men. These results support the emerging "Males are Idiots Theory" (MIT). The authors were at a loss to explain the reasons for males dominating the art of stupid death, but they offered that men are more willing to take unnecessary risks simply as a rite of passage, for male social esteem, or perhaps just for bragging rights. It is also believed that alcohol had a lot to do with the outcomes (duh!).
Macho Man Cuts Off Own Head
My favorite Darwin Award went to Polish farmer Krystof Azninski, who in 1996 cut off his own head while trying to prove how macho he was by one-upping his friend who had just cut off his own foot with a chainsaw. Azninski won. And lost.
The bout started while drinking (again, duh). They began hitting each other over the head with frozen turnips. But when Azninski's friend cut off his own foot, Azninski felt compelled to respond.
As kids, we were all warned about the dangers of running with scissors: "It's all fun and games until someone pokes an eye out." When you're 4 years old, that gruesome image stays with you and vividly comes back every time you hold scissors. Running is the last thing on your mind, at least for most people.
But there are some who never listen and seemingly never learn. Tell them the stove is hot and they'll end up with a second-degree burn because they had to prove it to themselves. Their universe is a lot different than ours, and if we were able to listen in on the conversation in their heads, we would twitch in disbelief. Logic? What logic?
Fitness and the Male Ego
What does this have to do with fitness? Well, while walking around the gym, I twitch a lot because I see bad technique. I see really dumb exercises. And worse, I see really dumb exercises done badly—and you guessed it: mostly by men. In this environment, I assume alcohol is not involved, so it must be something else. Let's try the male ego.
Maybe it's a guy thing, but very few males will seek out proper lifting instruction, and there are some who will not even accept it when it is offered. Their pride won't let them consider that they may be doing something wrong, and they are not going listen to another male tell them that they are. Female trainers, in this situation, stand no chance in helping these men regardless of their qualifications and experience.
Females, on the other hand, are not invested in false pride and are more interested in exercising correctly. They have no unrealistic expectations of strength and are pleasantly surprised when strength arrives. Their major concern is that they simply want to lift correctly and avoid injuries, and are therefore more willing to listen and follow through on instructions. Because of this, they progress better toward their goals and suffer from fewer injuries on the way.
I see the gym's version of Krystof Azninski round-backing deadlifts, knees collapsing inward while squatting, totally missing the point of the Olympic Lifts (which is power development, not conditioning), engaged in a death struggle under the bar while benching, not having the strength and proper technique to handle the weight they're using on any exercise, etc. The point is they are more interested in demonstrating strength than actually developing it.
Running with scissors, running with dumbbells; it's all metaphorically the same. It's all fun and games until you poke out an eye, rupture a disc, blow out a knee, or turn a shoulder into hamburger.
Guys, take pride in "doing it right." Let results come to you naturally; don't chase them. Stop running with scissors, and for god's sake put down that chainsaw!
To learn more about how a NIFS personal trainer can help you with injury prevention, click here.
This blog was written by Rick Huse, NIFS Health Fitness Specialist. To find out more about the NIFS bloggers, click here.