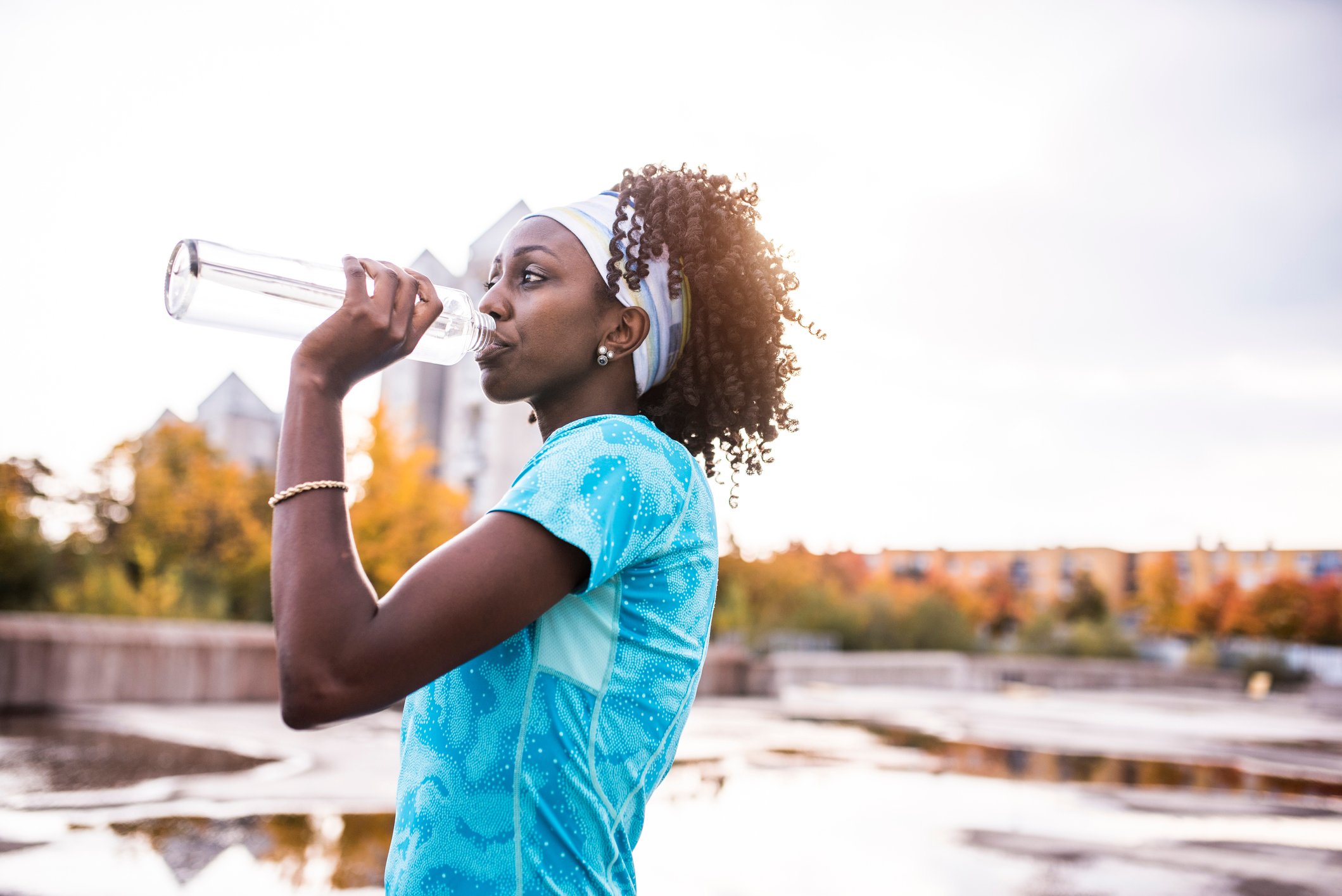 Did you know the human body is composed of about 50 to 60 percent water? Throughout the day, your body uses and loses fluid by way of natural body processes such as sweating, breathing, creating saliva, making and excreting urine, and having bowel movements. Losing more water than you consume can quickly lead to dehydration, which typically presents as excess thirst, headache, dizziness, weakness, digestion problems, and/or nausea. These symptoms typically resolve once you rehydrate your body.
How Much Water Do I Need Each Day?
The amount of water needed each day is different for everyone and varies depending on your age, gender, weight and height, activity level, and health status. For example, women who are pregnant or breastfeeding or those with chronic diarrhea often have increased fluid needs, while some individuals, such as those with kidney disease or congestive heart failure, may need less. Consuming alcohol and caffeine may also increase fluid excretion, thus requiring an increase in fluid intake.
There is no one-size-fits-all approach to hydration because you can achieve normal hydration status with a wide range of total water intake. Total water intake includes plain drinking water, water in beverages, and water that is found in food sources, such as in watermelon or cucumbers. On average, close to 20 percent of total fluid intake comes from food sources.
Instead of an established recommended intake level for water consumption, an Adequate Intake level for total water was set to prevent dehydration and its side effects. The Adequate Intake for total water for adult men and women is 3.7 liters and 2.7 liters each day, respectively. However, water consumption below the adequate intake doesn't automatically put you at risk for dehydration. A good rule of thumb is to consume HALF of your body weight in OUNCES of water. For example, an individual who weighs 150 pounds should aim to consume 75 ounces of water each day (150 pounds / 2 = 75 ounces).
For more individualized fluid recommendations, please speak to your physician or a registered dietitian (RD/RDN).
How Do I Know If I'm Drinking Enough?
The simplest way to determine your hydration status is by looking at the color of your urine. Pale urine is typically indicative of proper hydration and gets darker the less hydrated you become. It is possible to consume too much water, so if you're urinating frequently or your urine is clear, you may be drinking too much.
Suggestions for Staying Hydrated
Here are some tips for increasing your fluid intake.
Purchase a reusable water bottle.

Opt for water rather than soda and/or sugary drinks.

Wear clothing that is made of moisture-wicking material and fits loosely, to help you keep cool.

Bored of water? Add fruit to still or sparkling water. Try out some of these suggestions: Mint, lemon, and strawberry slices; cucumber and melon slices; orange and lime slices; apple slices and cinnamon sticks; cranberry and orange slices; orange slices and cloves; pineapple slices and raspberries.

Consume foods with a high water content such as watermelon and cantaloupe; strawberries; grapes; lettuce, cabbage and spinach; celery and carrots.
This blog was written by Lindsey Recker, MS, RD, NIFS Registered Dietitian. To learn more about the NIFS bloggers, click here.