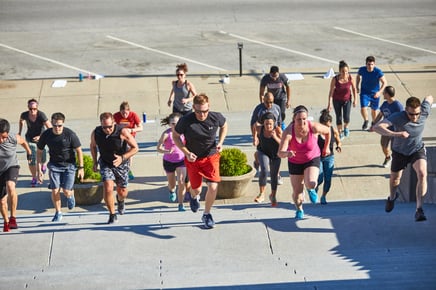 You either love them or you hate them… group workouts! In a world where technology is seemingly taking over the human connection and interaction, working out with a group can offer the opportunity to meet real friends instead of virtual ones online.
Whether you join a small group or just get a group of your friends to work out together, here are a few reasons why more is merrier for working toward your fitness goals.
Motivation
Group workouts give you motivation that you might not get by doing a solo workout. Unless you're that rare person who can jump out of bed at the sound of an alarm and hit the ground running, odds are motivation will go away as quick as you pressing the snooze button. We all battle the everyday ups and downs of life, but once you get together with your group, the energy levels go up and worries go out the door. You will find that you are motivated by the people around you and that'll make the workout much more fun and enjoyable.
Accountability
Remember when you were a high schooler and your parents would wake you up in the mornings? How nice of them to hold us accountable. A workout group can do the same thing for your health and fitness goals. There's something about knowing you won't be the only one getting your butt kicked that day. Not only will you have your group members to help hold you accountable, you will have a coach who is checking in on you. The effectiveness of a team member can influence the whole team. Therefore, don't let your coach and classmates down by not showing up.
Support System
One day a month, all the members of the Ramp Up to Weight Loss program come together for a group workout followed by a post-workout snack. Not only do they get a chance to meet one another, work out, breathe hard, and sweat; but they also get a chance to see that they aren't in this alone. They see that they have the support of all the other members who might be in a situation similar to theirs. Having a support system can give you a new sense of hope and encouragement because you know you aren't in this alone.
Fun
Some people like working out by themselves while others need a group around them. Being part of a group workout can really make exercising fun and enjoyable. You'll benefit from the energy and hard work you can feel being created by you and the people in your group. The motivation you receive and the people you surround yourself with will make exercise fun, not a chore you feel you have to do.
Mental Health
Group workouts offer you the advantage of getting to meet people who have similar interests to yours. You will feel part of something by being surrounded by likeminded people. You might be afraid to step out of your comfort zone and make new friends; group workouts give you that opportunity to stay within your comfort zone while making new friends.
Although group workouts might not be for everybody, you should try it at least once. You might find that a group atmosphere is exactly what you need to push you past your health and fitness goals. There are so many ways here at NIFS to get involved with a community of supporters: Small Group Training, Group Fitness classes, the Ramp Up to Weight Loss Program, and many of the other programs we provide throughout the year.
"When we try to exercise alone, we can feel isolated and uninspired; together we can achieve our fitness goals."
This blog was written by Ashley Duncan, Weight Loss Coordinator. To find out more about the NIFS bloggers, click here.