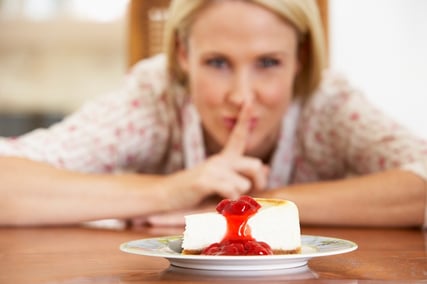 Can you really win by cheating? Well, the obvious answer is no. Morally, we know that cheaters aren't supposed to win. If that is the case, why do we cheat ourselves through self-destructive behavior, known as cheat days, throughout the week?
After a long, hard week of work, with the addition of a strict training protocol and nutrition plan, sometimes we feel we need to take a day off, or even just a meal where there are no rules or responsibilities holding us down. These are called "cheat days" or "cheat meals." They can be as simple as staying up late and having drinks with friends, or going to an all-you-can-eat pizza buffet on a Sunday afternoon. Are cheat days bad for you, or are they a good way to bridge the gap between unrealistic ideals and natural human behavior? This blog will look more closely at this question.
Indulging Often Defeats the Purpose
This day, for starters, is meant to be a built-in rewards program and motivation for those who have done well throughout the week (or weeks) leading up to the act of cheating. There are a few rules, though. Cheating multiple times per week (or everyday, for that matter) is no longer cheating; it is considered your normal routine. This probably means there are other issues that you might need to resolve.
For the cheat day to work, an established routine of exercise and nutrition has to be in place already. Several days of flawless nutrition coupled with workout plans help you earn that day, experience, or meal you want. This can be done at a maximum of once per week. We tend to devalue the indulgence after a few weeks, and it becomes less of an all-out binge and more of a planned day or meal (we want to feel good after a meal and not like garbage). In this case, the plan works and makes perfect sense.
Why We Need to Take a Break Sometimes
There're only so many broccoli florets you can eat before you go mad, and only so many burpees you can do before your body gives out completely. Spicing up your life with cheat days eventually has restorative properties that help both mentally and physically. From socializing with friends to taking time to relax to giving yourself a pat on the back, it can help each of us differently and at the same time bring us all together by humanizing wellness and fitness.
Remember, though: you can't cheat everyday or every other day. Consistency is your ticket to a splurge. Further, it doesn't have to be about food. You can always reward yourself by going on vacations, buying yourself an outfit, or going to the spa.
Get Goal-Setting Help
NIFS can help. NIFS staffers are here to help you set realistic, measurable goals. Set up a time to meet and talk about goals, testing (before and after), and personal training.
This blog was written by Thomas Livengood, Health Fitness Instructor and Personal Trainer. To read more about the NIFS bloggers, click here.