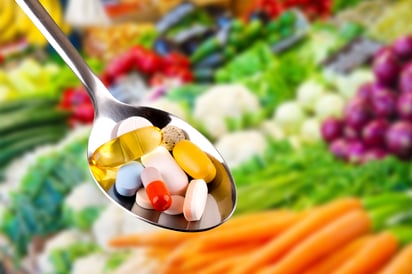 Dietary supplement usage is reaching an all-time high. The 2019 Consumer Survey on Dietary Supplements revealed that 77% of Americans consume supplements. This is a dramatic increase from the 53% reported by the NHANES in 2010. Americans are spending $38.8 billion a year on supplements, with more than 85,000 supplements on the market. Reasons for consumption are widespread, ranging from athletes hoping to boost performance to people who need more Vitamin D for bone health.
With the rise in supplement usage, it is important to be an informed consumer. While there are numerous reasons for this, one of the biggest is that supplements are loosely regulated by the FDA, meaning labels may not display what is truly in the supplement. Also, claims marketed about the benefits of a supplement may be false because companies are not required to obtain authorization from the FDA prior to making such nutritional support claims.
How can you know whether what you're taking is safe and effective? Let's dive in!
What Is a "Dietary Supplement?"
According to the Dietary Supplement Health and Education Act of 1994 (DSHEA), a dietary supplement means "a product (other than tobacco) intended to supplement the diet that bears or contains one or more of the following ingredients:
Vitamin
Mineral
Herb or other botanical
Amino acid
A dietary supplement used by man to supplement the diet by increasing dietary intake
A concentrate, metabolite, constituent, extract, or combination of any ingredient described in the above."
Are Dietary Supplements Regulated? Can Supplements Be Trusted?
Technically, yes, supplements are regulated by the FDA under the DSHEA. However, there are loopholes to consider:
The FDA does not inspect products before they are sold, nor do they require registration unless the supplement contains a new ingredient not yet on the market.

The only formulation standard is the

Current Good Manufacturing Practice (GMP);

however,

2013 report

by

the FDA revealed that 70% of inspected manufacturers were in violation of GMPs. Not all products even get inspected after being on the market. The FDA states the manufacturer is responsible for ensuring safety and quality, but clearly some manufacturers are doing a poor job, and the FDA is only catching some.

Nutrition supplements may not claim to diagnose, cure, prevent, or treat diseases. Sure enough, some manufacturers have managed to ignore this.

A 2003 study

found that 81% of 338 herbal supplement retail websites made one or more health claims, and 55% claimed to diagnose, cure, prevent, or treat specific diseases.
What Can You Do to Be Safe When Taking Supplements?
Blind trust in supplements is unwarranted; however, there are steps you can take to ensure your safety while taking them.
Check the label for a stamp indicating third-party verification. Independent third parties are hired by manufacturers to thoroughly test products, ensuring accuracy of ingredients, potency, and amounts; absence of toxic compounds; and production in compliance with FDA GMPs. Credible third parties include NSF International and US Pharmacopeia (USP).
Athletes: look for the NSF Certified for Sport stamp. The USA Doping Agency (USADA) has recognized this program as best suited to assist athletes in choosing supplements that do not contain banned substances for sports.
Download the NSF International App. It shows which products are NSF approved—right at your fingertips anytime, anywhere.
Check out the Dietary Supplement Fact Sheets published by the National Institutes of Health: Office of Dietary Supplements. This government agency has quick fact sheets about a variety of dietary supplements, including vitamins, minerals, probiotics, botanicals and herbs, and more.
Speak with a Registered Dietitian for supplement guidance and which supplements may (or may not) be right for you. NIFS Registered Dietitians are available to help you!
This blog was written by Sabrina Goshen, NIFS Registered Dietitian. To learn more about the NIFS bloggers, click here.