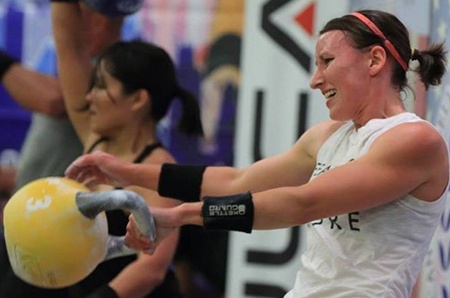 I first met Tasha three years ago when I started working at NIFS. At that time, she was working full time and was in charge of group fitness. Besides the administrative duties of scheduling classes and riding herd over all of the independent instructors, which included getting them paid, she also taught several classes throughout the week. She was in early and always seemed busy.
When I started the Kettlebell Classes Monday to Wednesday at noon, several of our trainers and staff would drop by and take a group training class whenever their schedules would allow. As time went by, Tasha was one who showed up more often. She seemed to really like the Kettlebell and the demanding workouts.

Getting Competitive

About a year ago, the subject of competing with Kettlebells came up after a class, and I suggested that Tasha go to the Ice Chamber Kettlebell Girls website and check out the videos of the girls lifting and read about their journey into Kettlebell Competition.

I studied for several years with 10-time Kettlebell World Champion and Honored Master of Sport Valery Fedorenko. I was certified by Valery as a Kettlebell Competition Coach and was also named Master Trainer in 2012. The Ice Chamber Girls also studied under Valery, so I knew their technical skills were solid and would be a great example for Tasha to watch.

A few days later, Tasha came up to me and said, "I want to do that!"

Tasha's Rapid Rise

Her journey into serious Kettlebell Competition Lifting began at that moment, and neither one of us knew how it was going to unfold, but here is what we know thus far.

Tasha began training for Kettlebell Competition less than a year ago along with Catherine Kostyn (a longtime NIFS member) and a gentleman by the name of Neal Baker (who would be shocked that I placed "gentleman" and his name in the same sentence). Tasha's progress was amazing. She was truly a natural for the sport, but how far and how fast she would go was yet to be revealed.

All three competed in their first competition in Louisville at a club that my longtime friend Dave Randolph owned. He and I were among the first Kettlebell instructors in the country. We were in the same RKC class in 2002, so we go a long way back. We put together this meet for some of his members and my three athletes so they could get some experience on the Kettlebell lifting platform. Tasha won her class and was the most outstanding lifter in the meet. There were no awards, just a community of Kettlebell enthusiasts getting together and having a good time.
Tasha competed several weeks after that in a IKFF Midwest Regional meet. Once again, she won her weight class, and I consider her performance to be the most outstanding of the competition.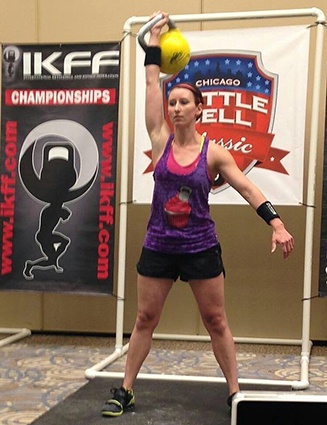 The AKA National Championships took place in early August outside Chicago. Tasha won her bodyweight class (58Kg) competing with a 16Kg Kettlebell in the Biathlon (1 arm Clean & Jerk - 10:00 / 5:00 per arm and 1 arm Snatch - 10:00 / 5:00 per arm). Tasha did 175 Jerks and 167 Snatches. That performance set a new AKA National record for her bodyweight and 16Kg Kettlebell. A week after that meet, Tasha was invited to represent the U.S. on the AKA World Kettlebell Championship Team to compete early November in Dublin, Ireland, in the 16Kg One Arm Snatch event. Of course she accepted that invitation!

Allow me to summarize: In less than a year of serious training, Tasha has won three competitions, including the National Championships. She set a National Record and has been invited to compete for the USA at the Worlds in November. By any standards, it's been a pretty good year. But it is not over.

I told Tasha, if she gets invited to the Worlds, we're training to win, not to just be happy to be there. The training program has started and there is less than 10 weeks to go. I have no doubt that Tasha is capable of winning a World Championship. She has the natural talent, the ability to work hard, is extremely coachable and has the deep desire to win. A coach can't ask for anything more, and the United States could not ask for a better representative.

A Growing Sport

Now that I have had your attention this far, let's get down to business. Kettlebell Competition Lifting is a small but fast-growing sport. The AKA lacks the resources to send its athletes to the World Championships. The athletes must find their own way there and cover their own expenses. Tasha is no exception. Most of the AKA team members have set up their own GoFundMe accounts, and here is Tasha's link: GO TASHA

Both Tasha and I are on Facebook, and you can follow her video blogs about her training there.

Also, Tasha and I will be conducting a Kettlebell Clinic on Saturday October 10th at 10am. We will demonstrate proper Kettlebell techniques and celebrate Tasha's accomplishments at the same time! You will learn: the swing, clean, rack position, press, push press, goblet squat, and the beginning steps of the Get-Up. You will also experience a version of the Coyote workout to get an understanding of "work capacity" training.

This is a really great story with more news to come, and you have an opportunity to help someone reach for their dreams. We are grateful for the support and your energy and good wishes for Tasha's success, and for your interest in a little-known but rapidly growing intense sport, and if you are motivated to contribute financially, every little bit helps.

Peace and Power in Your Life!
Thank you!
Rick
Interested in starting Kettlebell Training? Click here for more information on
NIFS Kettlebell sessions!
This blog was written by Rick Huse, CSCS, WKC Competition Coach. To find out more about the NIFS bloggers, click here.