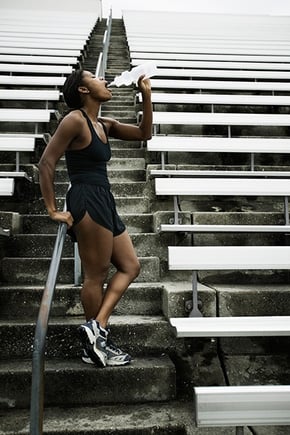 Over the past six to eights weeks, I have been creating summer workout manuals for the teams that I work with during the school year. These manuals are meant to bridge the strength and conditioning gap between the time they leave for summer break and when they return for the fall semester. There is much to be gained, or lost, through a summer of hard work (or lack thereof). Although summer break is a true "break" for most athletes academically, there never really is a true break for training.
Many of the teams I work with are spring sports. Their seasons begin a couple months after the turn of the year and may not finish until after school is out. They go from the playing field, track, course, or court, back home where family, friends, and summer jobs await. Being spring sports, their summer usually begins with a recovery period that occurs when their competitive season comes to a close. The components of this recovery process include mental, emotional, and physical aspects that need to be met in order to fully prepare for the next bout of training and the following season.
For the sports that I work with, the first portion of the training calendar for the post-season is called active rest. Active rest is an approximately two-week period where the athlete performs light physical activity at least two to three days per week. These physical activities should have nothing to do with the sport that they participate in. Think about it: after spending six to seven days per week over the past four months participating or thinking about their specific sport, the last thing many individuals want to do is continue to do just that. Although this is the sport that you may love, getting away from it for a short period of time can do wonders.
Taking a Break from Training
Active rest can mean a lot of things, and the best part is the fact that you basically have free reign over what you choose to do, as long as you are staying active. This gives you the opportunity to choose something totally unrelated to your sport and do it for the next few weeks.
I would recommend that the intensity of the activity you choose not climb above "moderate." The low to moderate style will allow adequate blood flow to working muscles, which will help promote physical recovery of the muscles that were taxed so much during your competitive season. Another recommendation I would make would be to limit the amount of impact (foot strikes) you have during this period, especially if your sport requires a large amount of impact. This will allow your body to recover from the constant "ground and pound" that you might have during track, tennis, or softball season.
Active rest is also a good time to incorporate corrective exercises from the Functional Movement Screen (FMS) that your coach or trainer gave you. These exercises focus mainly on mobility and require very few pieces of equipment for the most part. Spending two to three weeks working on any muscular imbalances that may have developed during the season will give you a leg up when you begin your intense off-season training program in a month or so.
Active Rest Recommendations
Following are my top 5 recommendations for the rest period of your training:
FMS corrective exercises

Swimming

Hiking

Bike/elliptical/arc trainer/rower

DO SOMETHING FUN!
Physical recovery is definitely important during this time, but recovery of your mental and emotional well-being may be just as or possibly more important. Let's face it—any competitive season has a multitude of ups and downs, which creates an emotional rollercoaster that could send anyone through a loop. You have spent 48 out of the past 52 weeks preparing or playing your sport. You owe it to yourself to do something a little different and come back refreshed for the preparation for the next season.
If you have any questions about how to set up active rest for your post-season training, or need help constructing an off-season training program for your sport, contact me at asoller@nifs.org. To read more about setting up training programs for athletes, see my blog series that begins here.
This blog was written by Alex Soller, NIFS Athletic Performance Coach. To find out more about the NIFS bloggers click here.