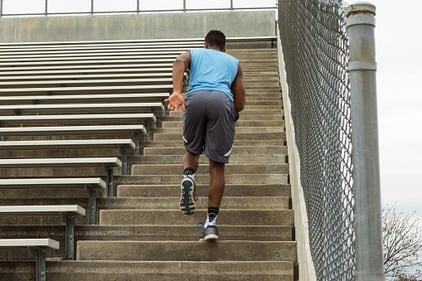 Summertime is in full swing, and whether you are a competitive or recreational athlete, changes are definitely happening to your normal schedule. For high school and collegiate athletes, more time is spent at home and for general fitness enthusiasts, more options are available to you to fulfill your exercise quota (in other words, doing more things outside). These are both extremely important changes that can be used to alter a routine that has lasted for the past 8 or 9 months of your life.
Student-athletes have been juggling class, competition, and training. Amateur athletes have been working (real jobs), training, and competing as well. When early spring hits, most individuals are sick of that stagnant routine and are looking to switch it up, which is why summer is welcomed by most with open arms.
Summer can also be a time when many physical aspects (such as power, strength, and speed) can decline if adequate "maintenance" of those aspects is not applied. The increase in other opportunities during summer can sometimes lead to a leniency of training that might do more harm than good.
Here are 3 things that I have learned over recent years as a strength coach, trainer, and collegiate athlete to hopefully help minimize this detraining effect.
1. Don't focus on too much at one time.
Every summer when I would go home from school, I had a list of 5 or 6 things that I felt like I had to get better at. Each training session, I would have a ton of thoughts about how I could make those things better. Of course, I had a training packet from the football team, but felt like I had to do even more. I had to get faster, more agile, stronger, more flexible, and in better shape. At some point, I was doing more thinking about what I had to do to get better than just working hard with what I had.
Even today, I send workout packets home with each of my athletic teams. The goal, obviously, is to continue to improve their physical and mental toughness. But for some, I just want to make sure that they don't totally fall off of the bus with all of their training. I aim to keep workouts short, sweet, but challenging. They usually focus on sport-specific training aspects for each individual team (for example, single-leg strength for runners, and rotational power for softball players). I want to make sure that the "bread and butter" of the sport remains at the forefront.
2. Get creative.
Being creative in the gym during the summer months may be due to two things:
Your gym doesn't have the equipment you want (or need) to do specific exercises, or

You are looking for alternatives to exercises you already do.
If your gym doesn't have specific pieces of equipment for exercises that you are looking to do, think about what that exercise is trying to accomplish. For instance, your workout program might call for a kettlebell swing, but your gym has no kettlebells. Think about what the target muscle is for that exercise and plan an alternative. The main muscles in the KB swing are the glutes, so doing a weighted hip bridge or a Romanian Deadlift might suffice as an alternative. Sure, it's not a perfect match, but it's better than not doing it at all!
If you are simply looking to get out of the monotony of your 4-day split routine, you have a ton of options. Say Tuesday is considered your "squat" day, but you want to take a break from the barbell work you have been doing. Good news: You can squat with just about anything in the gym. Kettlebells, sandbags, slosh pipes, medballs, and weighted vests are just a few options that can give you that much-needed break from your regular program. Also, try switching up the reps. If you are used to doing 5 sets of 5 reps, try a workout where you do 5 sets of 20 or 3 sets of 50. It will definitely give a little shock to your system.
3. Don't forget what summer is for!
Every competitive athlete, young or old, constantly thinks about their sport and how they can improve their performance. For most, there is no such thing as an off season anymore. There is never a chance to truly take their mind off of what they compete in, which can lead to burnout after a couple of seasons. Summer is meant for unwinding from heavy workloads, in class or with jobs. Mental and emotional recovery are just as important as physical recovery. If your mind has not recovered from the past year of training and competing, it will be very hard to devote the same amount of time and effort to the next season.
You still need to train for your sport, but post-training activities are a good way to unwind after a hard workout. Go to the lake, go fishing, go golfing: do something that allows you to enjoy the summer. You will only have a few months of opportunities like this. Work hard, play hard!
This blog was written by Alex Soller, NIFS Athletic Performance Coach. To find out more about the NIFS bloggers click here.