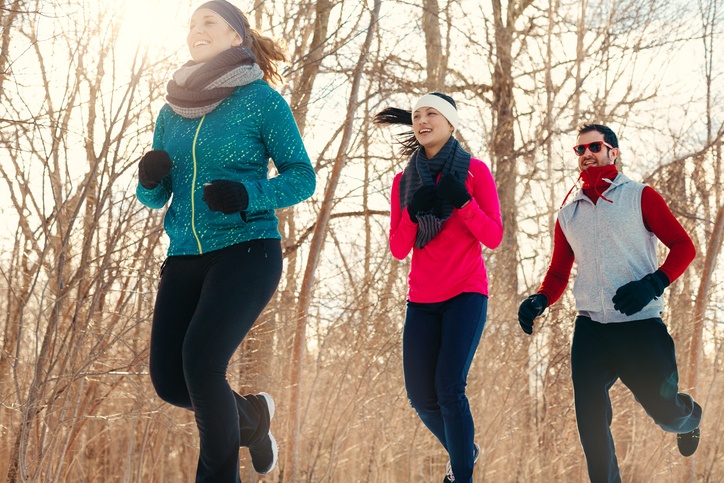 Winter is officialy here. With temperatures getting colder and the weather conditions more temperamental, it's important to plan ahead to stay on top of your wellness goals. Distractions are inevitable during the holidays, but anticipating them and reacting accordingly will set you apart from most individuals during this season. See our tips below to help combat being sidelined this season
Plan ahead. Parties and gatherings are part of the fun of the season, but may throw a wrench into your normal schedule. Take a look at your calendar at least once a week and schedule in your workouts beforehand. Don't be afraid to get creative!
Grab a friend. Not feeling motivated? Partnering up to exercise is a great way to create accountability while also enjoying hanging out with your friends. Try a new class or step out of your comfort zone.
Dress appropriately. If you don't want to be stuck inside during the cold weather, make sure to wear the proper gear. Check out this article about winter running wear to determine whether your winter workout wardrobe needs an upgrade, and then see these other tips for preparing for a winter run.
Write down your goals. In addition to having a workout partner, do some goal setting, and post them somewhere visible—like the fridge!
Get 7 to 8 hours of sleep. If you are starting to feel run-down, it is extremely important to make sure you are getting a sufficient amount of sleep. Lack of sleep reduces the amount of antibodies and cells that fight disease and infection.
Take advantage of seasonal activities. No time to fit in the gym? Stay active in your events! Try ice skating, cutting down your own Christmas tree, or walking around a holiday market.
Most importantly, remember to enjoy the season and surround yourself with friends and family. Creating a well-rounded exercise program will help you stay on top of your goals while still taking advantage of seasonal festivities. Have questions? A NIFS trainer can help set you up for success!
This blog was written by Ellyn Grant. To read more about the NIFS bloggers, click here.