It's time to change our mindset.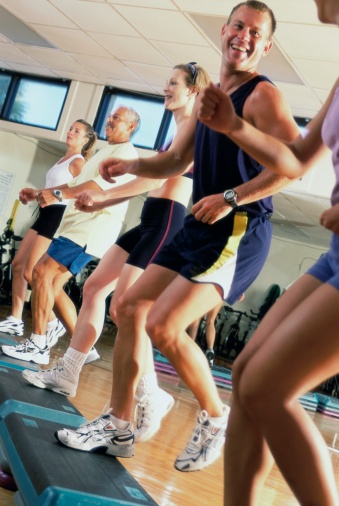 "Our mindset" refers to every individual who has ever had one slice of pizza too many and subsequently tortured themselves on the treadmill because of it. Exercise is not punishment and should not be viewed as such. If you consistently and begrudgingly plan your workout routine around your indulgences, fitness becomes an irrational afterthought. A healthy lifestyle includes both enjoying the sweeter (or more savory) things in life, as well as enjoying a sweat session for the benefits of fitness. Your body is built to be listened to, and practicing a balanced lifestyle will help you reap not only better health, but also performance benefits.
Turning Your Mindset Toward Rational Fitness
Instead of being mad at the alarm clock, rolling out of bed, and dragging yourself to the gym, find an activity that brings you joy. If a 6am spinning class makes you actually want to get out of bed, go ahead and rock it, but if it doesn't, don't be afraid to try something new. Anna Maltby, Director of Health and Wellness at Refinery29, says it best: "It's about focusing on the wonderful things that exercise does for you so it makes you healthier, it helps you sleep, it gives you less pain, and puts you in a better mood ... and makes you live longer (2016)." If your current exercise habits are leading you to dread your time spent being active and not appreciate how good it makes you feel, it is time to reevaluate your mindset.
In order to change your mindset and think about an exercise program more positively, you must first cultivate your intent (or create a goal). Think about the desired outcome and the reasons behind your decision to develop an exercise routine. If you can connect your intent with a statement or even an item, the days when motivation is hard to find will eventually get easier and become habitual, no matter what you ate the day before! Don't hesitate to take the class you are interested in or pick a workout you love just because everyone else isn't doing it. Adhering to newfound goals and focusing your intent is the beginning of a lifelong wellness journey.
Three Tips for Motivation
Once you find your reason why, self-motivation is often the biggest hurdle. Following are three great strategies to facilitate and guide you to approaching exercise in a positive way.
Do the small things well. When writing down your main goal, also include 1 to 3 micro-goals that will help you keep track of your progress. Make sure to take the necessary time to learn the movement before moving on to the next, more difficult progression. This will also help you build confidence in and out of the gym.
Claim your autonomy. Hold yourself accountable for your routine. Develop and establish the authority to control your workout schedule while also being flexible. Work meetings, family events, or social activities happen and it's okay to rearrange without beating yourself up about it.
Stay positive. It's easy to be swept up in stress and forget why you started your journey in the first place. Create a gratitude journal and write at least one thing you are thankful for each day. Don't forget to reflect on the goodness that surrounds you.
No matter what your mindset toward exercise has been in the past, you can always make a change today!
This blog was written by Ellyn Grant, Healthy Lifestyle Coordinator. To read more about the NIFS bloggers, click here.