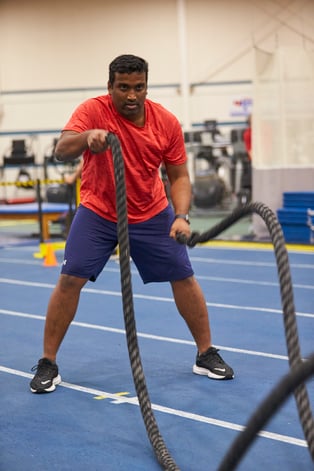 When you begin your fitness quest and are getting started on a new program, finding exercises that are appropriate for you is key to your success. Your fitness staff at NIFS has your back! Training methods and training tools developed from years of research and practice have shown that sometimes a simple exercise done well can be quite effective.
In this case, we will be looking at training with battling ropes (also known as battle ropes). I was lucky to have been in attendance at one of the top fitness summits recently and was humbled by the overall amount of work that can be accomplished with the ropes. (Taking some learning cues from renowned fitness professionals has given me the opportunity to deliver some great, purposeful workouts to NIFS members and clients.)
You may have seen the battle ropes in your gym, but did not know exactly what exercises could be done with them. For the most part, the movement patterns are simple, yet effective. Slamming the ropes utilizes multiple muscle groups and also gets your heart rate to rise. Taking the training one step further, your rope slams can be broken down into many movement patterns including small movement patterns, large movement patterns, and several other fun, specialized movement patterns (which we will look at in this blog).
What Are Battle Ropes?
Before we get started on the exercises, it would be helpful to have a better anatomical understanding of these ropes. For starters, ropes come in many lengths and thicknesses. The longer the rope or the thicker the rope, the more challenging the exercises become. Also, using a poly rope with shrinkwrapped endcaps has advantages over the less-expensive manila gym ropes traditionally used for climbing. The poly rope material tends to be softer on the hands and more durable than the manila rope. The manila rope, however, can work fine and be more cost-effective.
Small-Movement Pattern
The first movement pattern we will discuss is called the small-movement pattern. This pattern is the easiest to learn and progress from. Once you have selected your rope and have attached it to its anchor point, simply get your body into an athletic position (not unlike getting ready to hit a volleyball or pick up a groundball in softball). You will slam the rope quickly, yet rhythmically in cadence so that the small slams create a ripple that flows all the way down to the anchor point. This pattern can also have several small variations including single-arm slams. Typically, this exercise can be done for time (i.e., 20 seconds per set) or with your interval training (i.e., :20 on, :20 off for 3 minutes).
Large-Movement Pattern
The second movement pattern is the large-movement pattern. With this movement pattern, the goal is to create big slams with the rope. This movement is similar to the one seen with medicine ball slams, where you take your body from a small movement position to a fully extended position with the ropes overhead and on your toes, and then end by slamming the rope with maximum force into the ground. This movement can be rhythmic, but sometimes seems a little more aggressive in nature than the small-movement pattern. The benefits here, though, are definitely more athletic in nature, as many sports require movement patterning based on this exact exercise. Because this exercise makes it easier to count reps, being able to do sets such as 4 x 10–12 reps, makes sense (but do not limit yourself; intervals here are also appropriate).
Other Ways to Use Rope Training
Outside of these two movements, you can explore rope training in many ways. Thinking back to grade-school times, we used the rope often during physical education class as the true tests of strength with tug-of-war and the rope climb, but we can make ropes fun and challenging when we put them back into our workout plans and add a little competition. With tug-of-war, you need several people to compete, but other exercises can replicate this movement solo. The Marpo Rope Trainer machine can convert to a standing tug-of-war rope pull, just you versus the machine! The rope climb, which is a daunting challenge for most, can be replicated on the rope machine as well. But if you don't have the rope machine, starting with rope descends is an excellent way to get more comfortable and definitely stronger.
BONUS: Here is a great Friday Finisher series using the Ropes!
***
These rope challenges are great additions to most workouts because they are simple and they can be done with individual maximum efforts or in groups where a cardiovascular challenge is needed. If you are interested in adding ropes to your workouts and want more information, NIFS staffers are more than happy to help you begin your new rope training workout. As always, muscleheads evolve and rejoice!
This blog was written by Thomas Livengood, NIFS Health Fitness Instructor and Personal Trainer. To read more about the other NIFS bloggers, click here.