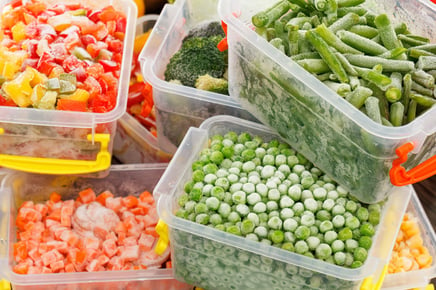 Since you were young you probably have been told to eat your fruits and vegetables. Fruits and vegetables are the nutritional powerhouses of your diet. They offer essential vitamins, minerals, fiber, and phytochemicals that not only keep your body healthy, but also protect against cancer, heart disease, stroke, and other health conditions. During the winter months, fresh fruits and vegetables are more limited and generally more expensive. As a result, many of us turn to canned or frozen options. So are canned and frozen options just as healthy as the fresh produce we consume?
Frozen Versus Fresh
Gene Lester, Ph.D., a plant physiologist at the USDA Agricultural Research Center states, "Frozen vegetables may be even more healthful than some of the fresh produce sold in supermarkets." Frozen fruits and vegetables are generally picked at their peak ripeness—a time when they are most nutrient-packed. After they are picked, they are blanched in hot water or steamed to kill bacteria and stop the action of food-degrading enzymes. Then they are frozen, locking nutrients in place.
Conversely, fresh fruits and vegetables are shipped across the country to reach our fresh-produce aisles. These produce items are typically picked before they are ripe. As a result, they have less time to develop the full spectrum of vitamins and minerals. Although signs of ripening may still occur, these foods never have the same nutritive value as if they had been allowed to fully ripen on the vine, plant, or tree.
In addition, fresh fruits and vegetables may spend as much as seven to fourteen days in transit. From the time they are picked to the time they are in your refrigerator, they are exposed to light, heat, and air, which degrade some nutrients. If you have the option to purchase fresh produce from locally grown farmers' markets, this is your best choice. At local farmers' markets, fruits and vegetables are grown, picked, and sold when their quality is best (and they are usually cheaper). Check out these fall options. Although they are limited during the winter months, seek out markets that remain available with produce grown in greenhouses.
Canned Versus Frozen
What about canned fruits and vegetables? Similar to frozen produce, canned fruits and vegetables are picked at their peak ripeness and canned soon after. So the produce is nutrient packed. With vegetables, however, excess sodium is generally added to each serving. If you choose to eat canned vegetables, be sure to buy cans marked "No Salt Added" or drain and rinse the vegetables in water prior to serving. Canned fruits are also saturated in excess sugar and syrups. Again, if you choose to eat canned fruits, be sure to buy cans marked "No Sugar Added" or drain and rinse the fruit prior to serving.
The Bottom Line
When fruits and vegetables are in-season, buy them fresh and ripe from your local farmers' market. In the off-season, frozen fruits and vegetables may be your best choice because they are the most nutrient-concentrated. However, if you are in a bind, produce in any form is better than none at all.
This blog was written by Angie Mitchell, RD, Wellness Coordinator. To find out more about the NIFS bloggers, click here.