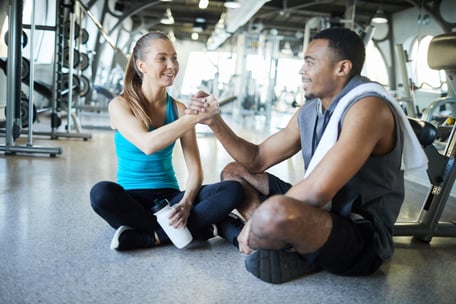 So often in life people like to look at things as win or lose. But what if you switched your perspective to thinking of making progress by winning each day? With this simple shift, your days can be filled with more positivity and success instead of the typical mindset of losing or not being good enough.
Assess Your Current Fitness Level
So how can you take this approach into your fitness training? It starts with acceptance. Where are you at today? Maybe start by doing a simple fitness test:
| | | |
| --- | --- | --- |
| EXERCISE DURATION | # of Reps | Completed |
| Pushups | 1 minute | |
| Situps | 1 minute | |
| Box step-ups | 1 minute | |
| Squats | 1 minute | |
| TRX Row | 1 minute | |
| Burpees | 1 minute | |

Set Realistic Fitness Goals
After you complete the test and track your results, set attainable goals in your mind. Maybe you want to increase each number by 3 to 5 reps a month from now. That doesn't sound too bad, right? We often set ourselves up for "losing" or "failure" by creating goals that aren't realistic.
The chance of winning the lottery in your lifetime is expected to be 1 in 175,000,000. If you set up your goal to win, how much money would you lose trying to buy all the lottery tickets just to achieve this goal? You might argue that the lose outweighs the win. The same is true in fitness training. People often think that doing more will get them to their overall desired results, but often this approach burns them out quickly, making the overall goal not attainable, and they give up on it after a short period of time.
The Mindset of Fitness Training
Here are some things to keep in mind.
If you set yourself up to start at the bottom and slowly add each time you work out, you will notice progress at each session. With new growth comes new excitement. Aim for progressing in your workouts for a daily feeling of winning, instead of an overall outcome of burnout and losing.
Proper form leads to winning longer!
Practicing proper form can be a huge challenge for many people. Slowing down in general can get uncomfortable, but breaking out of your comfort zone can reduce injuries and lead to success in your fitness progress for a longer duration.
When you practice quality in addition to your quantity goals, you are making double the progress. Have you ever asked a trainer to take a look at some of your basic movements, like a pushup or squat? A lot of details go into these exercises without weight that you might not even realize, let alone the additional details you need to think about when adding weight. A Functional Movement Screen might be a great way to receive feedback about your form to help give you additional knowledge and tools for personal fitness growth.
Don't forget recovery!
People often forget about the importance of recovery and how it actually allows us to win. Without allowing the body time to heal, you are putting negative strain on the body and brain, leading to not just physical injuries but also a lot of stress and anxiety, which also spirals into even more problems such as future disease.
Being mindful of how much stress you put your body under and balancing it out with how well you recover with days off, diet, and foam rolling and stretching is a huge fitness bonus!
This blog was written by Brittany Ignas, BS in Kinesiology, 200 Hour Yoga Alliance Certified, Stott Pilates Certified, and Fitness Coordinator. To find out more about the NIFS bloggers, click here.