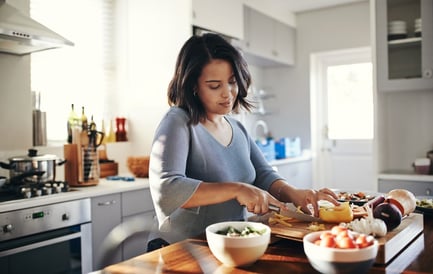 Most of us are aware that the number of Americans diagnosed with diabetes is increasing, but so is the number of us at risk. The American Diabetes Association says you now have a 1 in 7 chance of developing diabetes if one of your parents was diagnosed with the disease before age 50, and a 50 percent chance if both of your parents have it.
Genetics plays a role, but what can you do to reduce your risk of developing Type 2 diabetes? Lifestyle changes can be your best bet. Here are three areas that can have the greatest impact.
1. Practice Healthy Eating Habits
Eating a wholesome diet that is focused on plant foods is key. A large meta-analysis found that those who chose a Mediterranean-style way of eating were 23 percent less likely to develop Type 2 Diabetes. This style of eating is high in vegetables, fruits, nuts, seeds, legumes, fish, seafood, olive oil, whole grains, herbs, and spices but moderate in meat, poultry, eggs, cheese, and yogurt.
2. Move More, Sit Less
Physical activity can improve insulin resistance for as long as two days following the activity. The American Diabetes Association recommends that people at risk for Type 2 diabetes exercise for at least 150 minutes per week. This could be as simple as a 30-minute brisk walk, five days per week.
3. Sleep
Many studies have shown that sleep deprivation impacts glucose metabolism. Aim for at least 7 to 8 hours per night for lowered risk of developing the disease.
***
Just because you have a family history of Type 2 diabetes, doesn't mean you will automatically have it too. If you can make healthy lifestyle changes in nutrition, exercise, and sleep, you can lower your risk and improve the quality of your life.
This blog was written by Judy Porter, RD, CD. To find out more about the NIFS bloggers, click here.