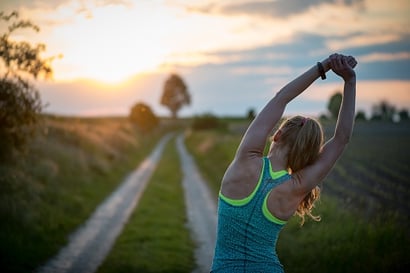 A New Year is a great time to reset goals, start over, or accomplish something new. Maybe this is the first time you are getting serious about your health and you are ready to begin your fitness journey. I love the thrill of new goals being set, seeing unfamiliar faces in the gym, and fitness becoming a priority for the first time in people's lives.
Being well into March already, the question arises: are you still on track to accomplish your goals and resolutions for 2020? Allow me to suggest some tips to help keep you on track so that when December 31st comes around again this year, you won't be making the same fitness goal for 2021 that you made for this year.
Tips for Accomplishing Your Fitness Goals
Many people set unrealistic goals or expect instant results. Once life gets back to the "normal" routine after the holiday season, the fitness goals once again fall on the back burner. Not this year! Here are some tips to help keep you on track all year long:
Set weekly or monthly goals—with your end goal in sight. Write them down, hang them up where you can see them every day, and cross each off after you have accomplished it. Leave the list up with the items crossed off so that you can continue to track your progress and see your success.
Allow for life to happen on your journey to meet your fitness goals. Some weeks are crazier than others; kids get sick or work is insanely busy. Plan that into your week and do not let it knock you completely out of your fitness routine. Find ways to get yourself to the gym during the crazy cycle of life.
Set realistic expectations. Don't expect to go to the gym 7 days a week. Take baby steps and make your goal to get there 2–4 days a week to start. Getting there a few times is better than not at all.
Lack of time should not be an excuse. Everyone has 24 hours in the day, so don't let time become a factor in not being able to make it to the gym. A 20–30-minute workout is sometimes sufficient for working toward your goal. Be efficient with the time that you do have and make the most of even 20 minutes.
Don't let one bad day ruin your week. Healthy fitness and nutrition choices are sometimes hard during the busy days. Tomorrow is always a new start for eating well and getting your workout in. Pick up where you know you should be and keep moving forward.
Don't make excuses. Excuses usually start to build up toward the end of January and beginning of February for how you are unable to make it to the gym. Don't get caught up in falling for them! Keep that New Year's excitement going into February and March with new weekly or monthly goals to accomplish.
Get Goal-Setting Help from NIFS
If you feel like you are in a goal-setting slump, ask a NIFS health fitness instructor for ideas or tips to help you get out. Remember to keep your end goal in sight. You do not need to wait for the New Year to start a new fitness journey. Don't be the person telling yourself, "There's always next year"; be the person who says "I am so proud that I stuck with my routine and accomplished my goal this year!"
This blog was written by NIFS Personal Trainer Kaci Lierman. To read more about the NIFS bloggers, click here.