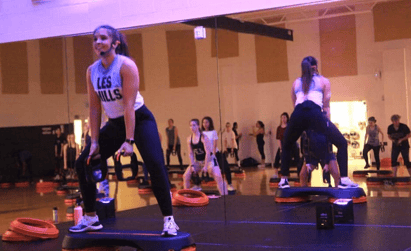 Picture this: It's the last 10 minutes of your favorite group fitness class on the NIFS Fitness Center's basketball court. You have already completed dozens of repetitions of strength-training exercises and now it's time for a cardio finisher. You are sweating, tired, and ready to be done, but you keep going. You are so close… it's the final 5, 4, 3, 2, and 1 seconds of cardio, and you made it. Wow, you feel exhausted, but accomplished. Your body is tired, but mentally you are at ease. Why does exercise make your mind feel so good?
Mental Health Benefits of Group Exercise
Exercise has many perks that are relevant to daily life, but focusing on mental health, exercise has loads of benefits.
Exercise increases the blood supply to your brain. More blood means more oxygen and more nutrients.
Exercise works as a distraction. When you're working out and pushing yourself, the things that usually occupy your mind to make you anxious are not the main focus.
Exercise helps you sleep. Pushing yourself daily in a workout can help you regulate your sleep cycle.
Exercise reduces tension. Moving your body in a workout can help relieve the tension built up from stress.
Exercise boosts your overall energy. Yes, working out makes you tired, but it also releases endorphins that boost your mood, memory, and energy level.
Getting Started with Group Fitness
Now that you know some of the benefits of exercise, how can you get started on improving your mental health with group fitness?
If you do not regularly attend group fitness classes, start slow. Set a target of one or two classes to attend a week. It's important not to push yourself too hard by trying to attend a class every day of one week, causing you to be burnt out or unmotivated to go the next week. The main objective for you is to set an attainable goal for several classes to attend weekly and then gradually increase your weekly participation once you are comfortable.
Don't be afraid to mix up the formats. At this point, any exercise led by our instructors will be good for you. Try out formats that you have never tried before, or even try a format you have enjoyed in the past with a new instructor. Mix it up!
The key to success within group fitness is to find formats that you enjoy with instructors that you look forward to going to. After all, attending a class that you dread is not going to be beneficial for your mental health. The more consistent you get with your workout attendance, the more constant the benefits will be.
Group Fitness at NIFS
Come join us in our group fitness community. NIFS has a wide variety of group fitness offerings, so you are sure to find a class to boost your mood, increase your energy, and improve your mental health.
This blog was written by Payton Gross, Group Fitness Coordinator and Barre Above Instructor. Learn more about the NIFS bloggers here.