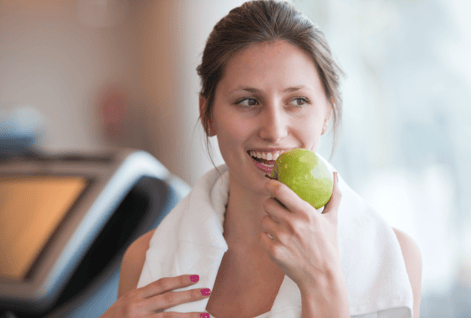 It's coming…the holiday season! Many people tend to give up or have the "I'll start fresh next year" mindset when it comes to exercise around the holidays. Don't let that be you this year! Halloween is over and before we know it Thanksgiving and Christmas will be here. Parties will start, normal schedules will be crazy, and more food will be added to your life.
Three Tips for Staying on Track with Workouts and Food
This season, let's go into the holidays with a different mindset. We know what's coming—it happens every year! Here are three tips to keep you on track.
Schedule time for your workouts. If you know you have a party or family gathering, plan ahead. Write your exercise time on your calendar each week just like you would anything else. Scheduling time for fitness should be a priority.
Something is better than nothing. Gym time cut short? Don't just blow it off! Just get into the gym and move. Getting 30 minutes of exercise is better than getting 0 minutes. Don't let your busy holiday gatherings keep you from your exercise routine. Even if you have to do bodyweight exercises at home or portable exercises on the road, don't just skip your workout.
Do a little bit better next time. You overate, you missed your workout, you have another party today. It's okay; you didn't lose the battle of fitness. You don't need to overeat at the next party. Just do a little better than you did at the last. Healthy eating and exercise don't have to be all or nothing. Just do better every day. Move a little more, and eat one less holiday treat than the day before.
Change Your Mindset—and Ask for Help!
The holidays don't have to be a time to let it go and start over during the New Year. This year, make it different! These three tips will help you change your mindset as we enter the season of craziness and delicious goodies!
If you need help on a quick workout idea, stop by the track desk and ask a NIFS HFS to help you out!
Remember 30-minute workouts are proven to be just as beneficial as longer workouts. If your short on time or just feel 60-minutes is too long, try one of our 30 minute Group Fitness Classes such as Tabata, or Extreme Core. Check out our Group Fitness Schedule below.
Happy Holidays!
This blog was written by Kaci Lierman, Personal Trainer. To find out more about the NIFS bloggers, click here.