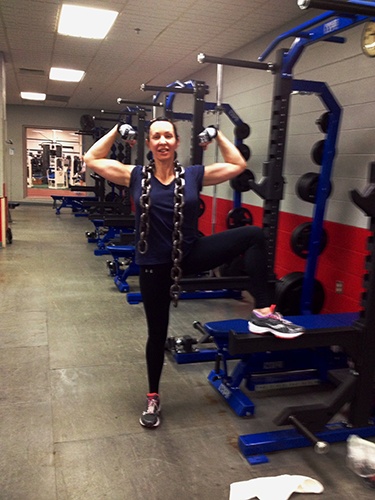 Working with phenomenal people is one of my favorite perks as a fitness professional. I often share that I have the best job on the planet because I get to spend time with just fantastic people. Witnessing the successes, the defeats, the comebacks, and the emotional victories is why I do what I do.
I began working with one of these remarkable individuals about six years ago, and knew right away that she was going to accomplish great things, and make me a better person along the way. Stephanie Whittaker, among so many other warrior-like attributes, has slain the big C, packed on a bunch of muscle, and been a leader in so many programs at NIFS. I had the honor to sit down with this amazing lady and ask her how she has come so far, what are some of her accomplishments, and what is the mindset needed to do it all.
Tony: What, if anything, motivated you toward fitness and wellness?
Stephanie: Seven years ago, NIFS was the starting point for regaining my health. I had recovered from surgical procedures and finished treatments for thyroid cancer and melanoma. Grateful for all that modern medicine had accomplished, it was now my turn to do whatever I could to restore my health and well-being.
Tony: Tell me about some of the struggles you faced at the beginning and throughout your journey, and what helped you overcome them.
Stephanie: One of the biggest struggles was accepting how deconditioned I was (overweight with zero stamina) and not getting overwhelmed by my goal of returning to my former state of health and activity. I remember my first spin class so vividly. I couldn't keep up with the workout; my only goal was to stay on the bike that day. I was gasping for air and seeing stars, but I stayed on the bike! One of the reasons I could stay on the bike was the welcoming encouragement and energetic support of the instructor (Steven Kass).
Tony: What do you think has had the biggest impact on your transformation?
Stephanie: My ladder of progress over the next year included regular spin classes, participation in Slim It to Win It, and the Mini-Marathon Training Program. I then mustered the courage to challenge myself and try a series of Small Group Training (SGT) classes with Tony. This was my "game changer." Prior to starting SGT, I went through a battery of physical testing, mobility assessment, and the BOD POD® calculation of my lean-to-fat ratio (oh, great!). The results were sobering; although I was not pleased with my starting metrics, Tony put that information into perspective and provided guidance to help me set achievable goals. If you don't know the starting point, how can you measure success?
"The group training environment is one of support, encouragement, and celebrating the fun of completing a 60-minute workout that you never would have done left to your own devices."
Now to the fun part: Group Training has been part of my life for six years. Twice a week I am one of Tony's "Warriors," and every Saturday I am one of Mike Bloom's "Crew." This is my fitness family. The group training environment is one of support, encouragement, and celebrating the fun of completing a 60-minute workout that you never would have done left to your own devices.
Over the past year I have incorporated personal training sessions focusing on Olympic lifting techniques with Aaron Combs and am making good progress. These skills translate to my group training workouts and overall improved fitness. I also continue with spin class twice a week.
"I have become comfortable with being uncomfortable."
Tony: Brag time! Tell me about some of your achievements during this time.

Stephanie: First of all, a regularly scheduled fitness evaluation (yes, more BOD POD®) and continued goal setting keeps me on track and moving in the right direction. The numbers don't lie.
*Starting metrics: 32.8% body fat; Functional Mobility Screening results = 9. I could not do a pull-up; my flexed-arm hang with chin above the bar was 10 seconds.
*Metrics as of December 2015: 20.7% body fat; Functional Mobility Screening results = 19. Pull-ups = 6 consecutive.

*Weight loss claims and/or individual results vary and are not guaranteed.
Tony: What message would you like to pass along to all those out there working to be the best version of themselves?
Stephanie: I am personally accountable for how I live, choices I make, and how hard I work to fulfill my goals and expectations. I approach each of my workouts with a mindset of getting to my "edge" and working that edge. Over time that edge advances. I have become comfortable with being uncomfortable—not injured, but going beyond my comfort level to push my mental and physical boundaries. This is how I have transformed into a more confident, vibrant individual who celebrates life each day.
***
The proof is in the pudding. It takes hard work to accomplish the things you hope to achieve, not just in fitness, but in anything in life. I would never sugar-coat that to anyone; it does take work to do things the right way, and there is no magic pill. Stephanie is a reminder of what hard work looks like, and is an inspiration to those who have or are battling cancer and other powerful diseases. Never give up, never give in, and never take a day for granted are just a few mantras Stephanie lives by. I am honored to have had the opportunity to spend time with her all these years and look forward to witnessing not only her physical accomplishments but her leadership success as well!
Want to get started on your own path to success? Try a small group training class on us
This blog was written by Tony Maloney, ACSM Certified Exercise Physiologist and Fitness Center Manager. To find out more about the NIFS bloggers, click here.