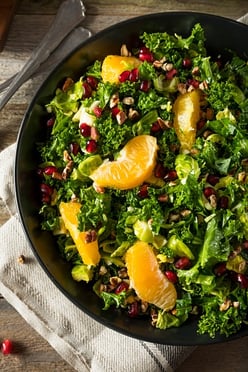 Are you uninspired on the vegetable front once the weather turns cold and the local fresh produce is no longer available? Luckily there are some hearty winter vegetables that I challenge you to try: Brussels sprouts, cauliflower, and kale. These whole foods will add some variety to your current lineup—and help you get the nutrition you need more easily. Below are recipes to try.
Brussels Sprouts, Quinoa, and Cranberry Salad
Serves 4–6

Ingredients
1 pound Brussels sprouts, rinsed and ends trimmed, then halved lengthwise and thinly sliced crosswise
2 cups cooked quinoa
1 cup dried cranberries

⅔

cup chopped pecans, toasted

¼ cup freshly squeezed orange juice
¼ cup olive oil
2 Tbsp. apple cider vinegar
Pinch of salt and pepper
Instructions
Toss the first 4 ingredients together until combined.

Whisk the rest of the ingredients together to make the vinaigrette and pour over the salad.
Cauliflower Fried Rice
Serves 4
Ingredients
1 head cauliflower, chopped into florets

1 small yellow onion, finely chopped

½ cup frozen peas

½ cup carrots, cubed

2 eggs, beaten

1 Tbsp. sesame oil

¼ cup low-sodium soy sauce

1 Tbsp. light brown sugar

⅛ tsp. ground ginger

Pinch red pepper flakes
Instructions

Chop head of cauliflower into florets and place in food processor. Pulse until it starts to resemble rice; set aside.

Heat a large wok or skillet over medium heat and drizzle in sesame oil. Add onion, peas, and carrots and sauté until tender, about 2 minutes.

Meanwhile in a small bowl, whisk together soy sauce, brown sugar, ginger, and red pepper flakes; set aside.

Slide veggie mixture to one side of the wok and add in the beaten eggs, scrambling until cooked through, and then incorporate with the veggies.

Stir in cauliflower "rice" and pour the soy sauce over the top, mixing well.

Cook an additional 3 to 4 minutes, until cauliflower is soft and tender.
Turkey Sausage, Potato, and Kale Soup
Serves 10

Ingredients
1 Tbsp. butter

2 Tbsp. olive oil

1 yellow onion, diced

3 garlic cloves, minced

1 package (14 oz.) smoked turkey sausage, sliced into ¼-inch rounds

4 cups torn kale leaves

Salt and freshly ground pepper, to taste

1 sprig fresh rosemary

½ tsp. dried thyme

3 cups cubed potatoes

32 oz. low-sodium fat-free chicken broth

2 cups skim milk (or alternative)
Instructions
Melt butter and heat olive oil in a large soup pot over medium-high heat.

Add diced onions, garlic, sliced smoked turkey sausage rounds, kale, salt, pepper, rosemary, and thyme; stir to combine and cook for 8 minutes, stirring occasionally.

Stir in potatoes. Add chicken broth and milk; bring to a boil.

Reduce to a simmer and continue to cook 10 to 12 minutes, or until potatoes are fully cooked and tender. Remove rosemary sprig.
I hope you enjoy these winter veggie recipes and try one soon!

This blog was written by Angie Mitchell, RD, Wellness Coordinator. To find out more about the NIFS bloggers, click here.