Every day during the week, hundreds of sporting events are played across the world. From football to tennis, golf, and soccer, among many others, athletes are competing at every skill level possible. Professional and collegiate sports have rigorous schedules that require their participants to prepare for the upcoming season year round. For many of these athletes, there is no more "off-season." There is a constant flow of training through different cycles that allows them to hit their peak performance during the right time of the season.
But how do these athletes get to be in the shape they are in for their seasons? Where do they start?
Getting Started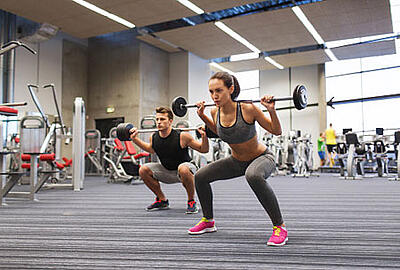 An athlete's training age, or experience they have in the gym, is one factor that is used to determine their initial starting point for their individual program. Someone with a higher training age will be able to perform exercises of more difficulty versus someone who has never stepped foot into a training atmosphere. This is important to consider when starting your program because some individuals may need more instructional time than others.
Resistance training can be a good starting point. It is one major mode of training that can lead to multiple benefits for everyone, not just athletes. Increasing muscle mass, strength and power are three main benefits that can be derived from a well structured resistance training program, but many more can be had. With the athletes that I train, all of them can benefit from an increase in one or more of those variables.
If you are new to resistance training, try coming to the gym two days per week for the first month and establishing your routine. Rest and recovery is very important during this time. Once you have your schedule in place, add a third day. This will allow you to keep improving as your body begins to adapt to your program.
Training Exercises for Beginners
To start, a "full-body" lift should be sufficient if you are beginning a new program. These exercises will focus on all of the major muscle groups of the body, not just a single group. Make sure the movements being performed are perfect. This is not the time to add as much weight to the bar or grab the heaviest dumbbells as possible. It is time to learn the basic movements to build for the future. Trying to break bad habits in weightlifting is one of the most common issues I see. Do your best to learn and perform the movements correctly the first time. The addition of weight will come shortly thereafter.
Start with 2 to 3 sets of 12 to 15 repetitions per set for exercises of each major muscle group (Quads, Glutes, Chest, Back, Shoulders). For starters, one exercise per muscle group will be sufficient. As your body adapts, more exercises can be added.
The basics are going to be what set you up for success in the future. Regardless of your lifting ability, everyone needs time to focus on the fine points of their techniques. Once you have developed a routine for resistance training, other areas can begin to be improved, like speed, agility and explosive power.
If you need assistance in creating your first full-body workout, contact me at asoller@nifs.org. For information on what NIFS can do to help you train for a sport, see NIFS Athletic Performance.
This blog was written by Alex Soller, NIFS Athletic Performance Coach. To find out more about the NIFS bloggers click here.