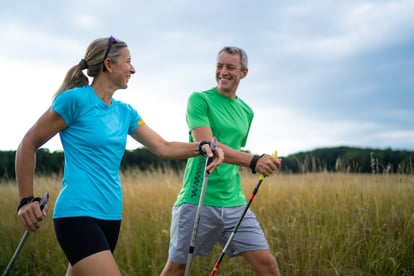 Unless you have been on Mars for the last four or five decades, you have heard, read, and seen the benefits of walking for health and fitness. There is no new hot take on walking; it's always been a fantastic way to stay healthy and enjoy exercise.
Walking is often undervalued as a great way to lose weight and feel better, mainly due to the perception that walking is not as "sexy" or intense as some of the fitness programs out there. And the popular opinion on the "interwebs" is that if you are not on your back at the end of the training session gasping for air, it's not effective (with Prancersizing not doing walking any favors in the "sexy" department). But walking can be a great way to get and stay in awesome shape no matter what the Instagram stars may be showing.
Why You Need to Walk More
Let's start with WHY you should be walking more:
It's FREE and it's FUNDAMENTAL.
A walking workout is customizable and can be done anywhere.
Walking improves almost all aspects of fitness: cardio, endurance, balance, core strength…the list goes on and on.
You already have the equipment (your body).
It's an easy way to get activity throughout the day.
It has been shown to decrease the chances for diabetes, cardio-respiratory disease, heart disease…and this list goes on and on. (Side note: It has also been shown that the best medicine for the top 10 causes of death is EXERCISE.)
Can be a solo or group activity.
No extra training needed—you already know how to walk.
Those are all pretty good reasons why we should walk more, right? Trust me, there are more reasons than listed above, but we'll start with those.
How Can You Walk More?
So HOW can you walk more than you currently are? Hopefully you know the common ways: park far away from any building you are entering, take the stairs, walk the dog more than once a day. Here are a few other strategies you may not have thought of:
Walk to complete errands.
Take public transit and get off two or three stops before the closest stop.
Take a shopping cart all the way back to the store or the farthest return—and oh, grab a few on your way because leaving your cart is an epidemic.
Fill up your water bottle every hour during your workday, and travel as far as possible to do so.
Schedule a 30-minute walk as a training day.
Walk mow your lawn, and maybe your neighbors', too.
Practice the Hawaiian wellness habit of searching for beauty.
Start your day with a 15–20-minute walk.
How to Ramp Up the Intensity of Your Walking Workout
For those of you who want to ratchet up the intensity on this catch-all, easy-to-use mode of exercise, here are some strategies to rock a great walk:
Walk with a purpose: Walk faster and with purpose whenever you are walking (unless it's a long stroll on a beautiful beach).
Inclined walking: Find some hills or put some incline on the treadmill.
Weighted carries: Pick up something heavy and walk with it.
Rucking (walking with a heavy pack): Same idea as carries, just using a pack.
Sled pulls: Strap a sled to yourself and start walking.
Hiking: Undulating terrain is a built-in training mode of increasing intensity.
Exercise and fitness does not always need to be extravagant and really should never be complicated (here are some really simple workouts for students). Make walking a bigger part of your training program. No matter the intensity level you choose, just move more!
This blog was written by Tony Maloney, ACSM Certified Exercise Physiologist and Fitness Center Manager. To find out more about the NIFS bloggers, click here.