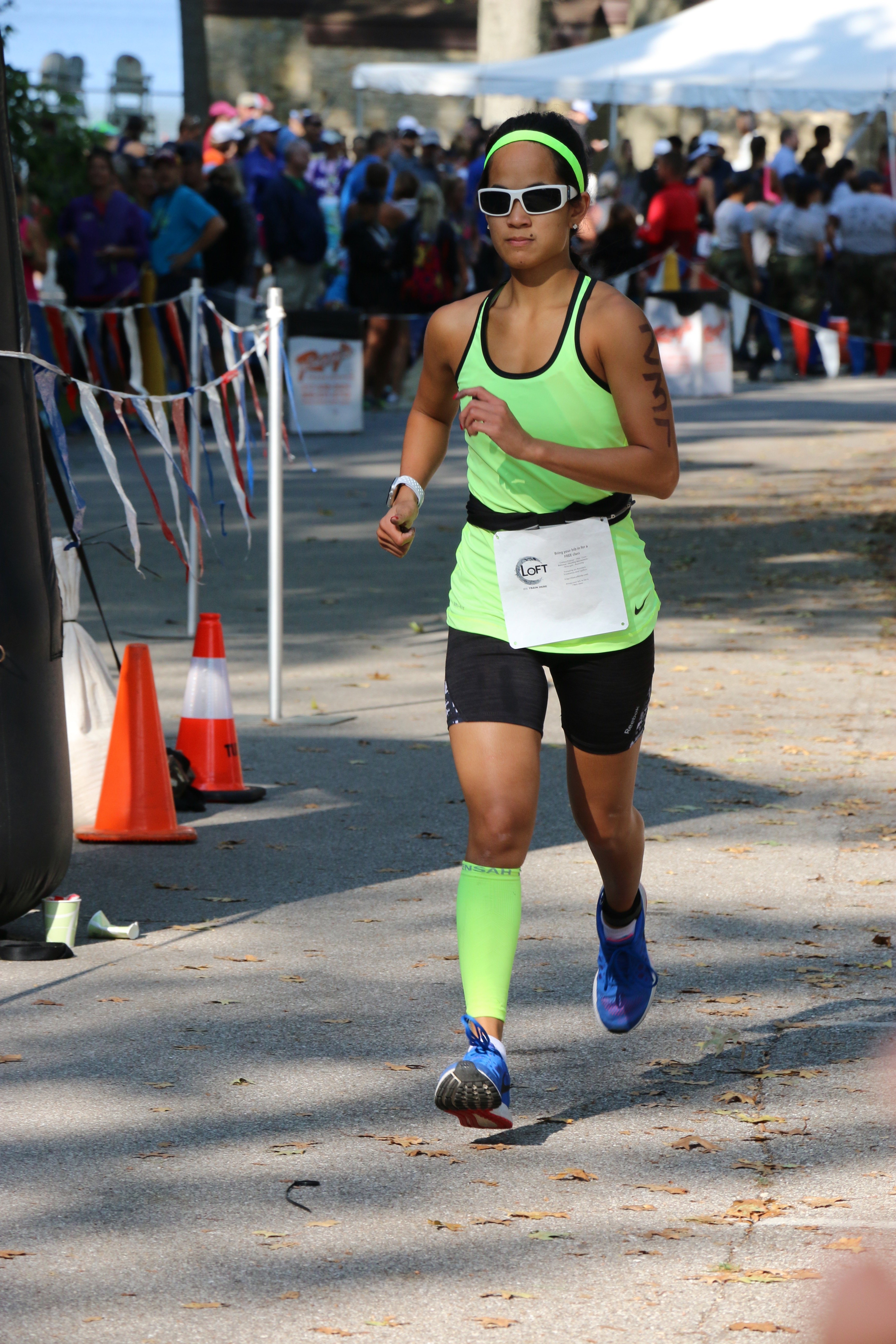 We have followed NIFS trainer Crystal Anne Belen throughout her triathlon training program experience (see part 1 and part 2). It's finally time for the race, the moment the entire group has been waiting for and anticipating for the past 2½ months. Let's hear from Crystal about her experience!
It's the week of the race and training is complete. A lot of preparation has happened over the last 10 weeks. The hard part is over. Hydrating, breathing drills, staying healthy, visualization, staying positive, and relaxing were my areas of focus. By the end of training, I was feeling confident with my transitions and prepared for the race.
Goal: 500m Swim, 10-Mile Bike, 3-Mile Run
At the start of the race, I felt the excitement in the atmosphere! Almost 400 athletes were there to compete, and everyone had worked so hard for this moment. From my perspective, the distance didn't look that far to swim in the open water. As I stood there waiting for my time to enter the reservoir, I was determined to conquer it, and there wasn't anything that was going to stop me. However, the swim turned out a lot harder than I expected. I unfortunately found myself going kayak-to-kayak, needing assistance, and eventually met George, a gentleman who stuck with me as far as I could go. He encouraged me as I went along and said that he was there for me whenever I needed him. No matter how long it was going to take me, I was determined to finish the swimming portion.
I swam about halfway through the 500m, and there came a point where I was taking too long in the water and was told that I had to be picked up in the boat to catch up with the rest of the swimmers. Along with a few other ladies, sitting in the boat in tears, I was disappointed in myself. The official who picked us up offered that if we wanted to swim the last 50m, we could get back in. I wasn't about to end the swim in total defeat, so I got back in the water and swam the rest of the way in.
The Ride
While I thought that the obstacles were over for me, the bike portion of the race brought even more roadblocks. I started off with a nice, quick transition to begin the ride. Determined to make up some time from the swim and knowing that I couldn't let the swim get to me, I came upon the first hill of the race and ended up running into a problem immediately. As I shifted gears, my chain came off my bike and I ended up having to pull off the road to put my chain back on.
After getting my chain back on, I rode for the next 6 miles, passing a few ladies, but then another unexpected mishap took place. As I shifted gears on another hill, my bike came to an abrupt stop. Emotionally done, I had had enough, and the disappointment of all the training I did for nothing was overwhelming. Another gentleman came and asked if I needed any help. He tried to see what was wrong with it, spent a few minutes looking at it, and ended up telling me that I was going to have to walk my bike the rest of the race. My derailleur flipped over and would catch in my spindle, not even allowing me to pedal. Beyond frustrated and embarrassed, I wasn't able to keep the positive mindset I had been working toward, although I was still determined to complete the course. It had to happen.
While walking the rest of the course, an unexpected turn of events took place. I caught up to a woman who was also walking with her bike. I felt so frustrated and defeated but as we began to talk, I was grateful for this time. She said, "I'm sorry to hear about your bike, but I'm thankful that you are walking with me." In that instant, my mindset completely changed. In the full-throttle of my stress, someone needed my help more.
The next thing I knew, the trainer in me ended up encouraging her to keep persevering. I was no longer thinking about the struggles I was going through. I walked with her the rest of the 3 miles, and she eventually rode back on her bike to complete the remainder of the race. Finishing in last place in the biking portion allowed me to put things in perspective, and I was so thankful that I had the opportunity to help another athlete. I was no longer mad at myself, and I kept telling myself that the only thing left to do was the 3-mile run, my strongest portion of this triathlon.
The Last Leg
Running indeed was my strongest event as I completed the 3 miles without any major incidents and ran the entire way. I finished my run in 28 minutes with an overall race time of 2 hours 12 minutes and 10 seconds.
With the rollercoaster of events that took place, I'm very grateful for accepting the challenge, going through the experience, and stepping outside of my comfort zone, and especially grateful for the people I've met along the way. I've learned that there are things that happen in life that you can't control, things happen in which you have a decision to make, for which your attitude can instantly determine the path that you will travel on. As a trainer, I work with many individuals who go through their own challenge on a daily basis, and this has given me more appreciation and a fresh perspective on the process it takes to overcome a difficult part in your life.
With how I completed the race, I've been asked if I'd do another one. Surprisingly, yes, I would do another one. Knowing what it takes and where I currently stand, I can work to improve. So the journey continues, I am tentatively planning on completing another triathlon on September 30, in Illinois, to write a new chapter in this book.
This blog was written by Crystal Anne Belen, personal trainer and health fitness instructor at NIFS. To read more about the NIFS bloggers, click here.