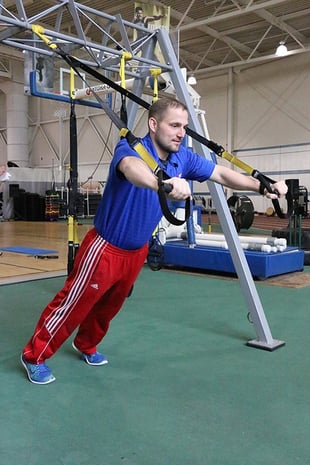 Continuing with our Group Fitness Class of the Month series, for April we are highlighting TRX. TRX suspension training is definitely one of my favorites both to teach and to participate in! If you have not tried a class yet or ever incorporated it into your personal workout plan, you are for sure missing out!You can complete an entire workout on the TRX system or simply use it to supplement any workout plan that you have going. No matter what your current level of fitness is, this minimal piece of equipment will enhance your overall health and fitness!
The Many Benefits of TRX Workouts
Let's look at why you should incorporate the TRX into your workout regimen.
It's versatile: One of the best things about the TRX system is that you can literally take it anywhere. Use it at home, at the gym, or outside around a tree branch. You can even strap it to the back of a hotel door when you are traveling. This small piece of equipment fits into any suitcase and is about the size of a toiletry bag.
Focuses on your core: No matter the exercise, the TRX is great because it utilizes your core in everything you do. Because you have to balance often, the core gets worked no matter what.
If you're tight on time, NO PROBLEM!: This is the answer for those who have minimal time to squeeze in a workout. In even 20 minutes, you can get a full-body workout—and a pretty good one, in my opinion!
All workout types are possible: Using the TRX, you can do any workout you want. With the simple TRX straps, you can hit mobility, flexibility, strength, cardio, and balance workouts.
Anyone can do it: No matter your age, height, weight, or current fitness level, the TRX can be done by anyone. Each exercise is adjustable to meet all the levels from the first-time exerciser to the daily gym rat.
The combinations are endless: There is one thing that I can assure you: when working out on the TRX, you will never get bored. There are so many different combinations of exercises; no two workouts ever have to be the same. I have been a certified TRX instructor for 5 years now and can say I don't know that I have ever repeated a workout twice.
It's hard!: Don't knock it if you haven't tried it. For all those who look over at the black and yellow straps hanging down and think, "That workout is for sissies," I challenge you to try it! Even the most elite athletes who get on the TRX and really hit some of the challenging exercises will walk away exhausted and satisfied.
It's customizable: Whatever you're looking for in a workout, the exercises done on the TRX can be customized to meet your needs. You can even begin to incorporate additional pieces of equipment, like kettlebells or dumbbells, into workouts to really up the ante.
Try It at NIFS
If these things don't sell you on the TRX, you are just going to have to get into the gym and try it out for yourself. With TRX being the class of the month, the staff at NIFS would be happy to have you join us! To get a free class pass for guests to NIFS, click here. Check out the group fitness schedule for when classes are offered.
This blog was written by Amanda Bireline, BS. To read more about the NIFS bloggers, click here.