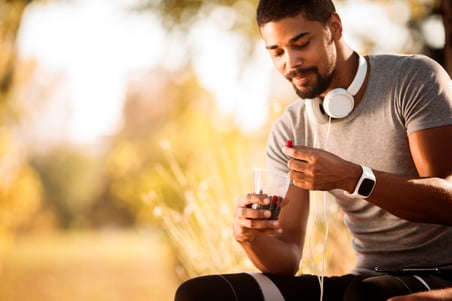 These past few weeks have been trying times for not only our families and friends, but also for the athletes we engage with on a daily basis throughout the year. In our position we must stay in a lead-by-example mentality. If we let ourselves go during this time, our athletes will notice and do the exact same thing. This is definitely a time of uncertainty and there are a lot of unknowns. Controlling what we can control on a daily basis is what will help not just us personally, but also those around us, to get through and come out of this on top.
Start by Continuing to Practice Good Morning Habits
It's easy during this time to sleep in and relax the majority of the day. That's why it's essential to keep as close to a normal schedule as you can. There is nothing wrong with sleeping in sometimes, but don't make a habit of sleeping into the afternoon hours. Keeping a schedule will make it easier to get back into the swing of things once the world starts moving in its true functioning fashion again. Try to continue to start your morning with a well-balanced breakfast. Incorporate meditation or read a book or article. If you are used to working out in the morning, continue to keep that same routine. Read more about these and other healthy habits here.
Lean on Your Coach for Ideas for Working Out
Always remember that NIFS is a phone call, text, or email away to give you ideas for different daily workouts or activities. It's still our jobs to help you get a quality workout. Not everyone is equipped with a full gym; and if you are, take full advantage. But at this time you might need to be creative, and if you need ideas (such as using objects from around your home as weights), reach out and get the help you need.
Technology is a great tool. Zoom and FaceTiming or videoing your workouts will give you something fun and exciting to do throughout the day.
Nutrition, Nutrition, Nutrition
You can't out-train a bad diet! If you get off track nutritionally, you're going to have an extremely hard road trying to get it back once we are able to meet as a group. Don't let something as simple as nutrition mess up what you work for throughout the year. Keep it a top priority. This is a great time to do research and read more about nutrition and better ways to go about it. Reach out to the Teams Nutritionist to find new recipes and food ideas.
Learn a New Skill and Have Fun with Your Teammates
Don't let this time go by without learning something new. Read more books and learn new hobbies. Most important of all, continue learning. There are great podcasts to listen to and daily roundtable discussions to tune into. Keep exercising fun! Invite your teammates to do a Workout of the Day over Zoom or Skype to keep it fresh and fun. It will also hold you and your teams accountable during this pandemic. Daily or weekly challenges are great for continuing team-building.
Embrace the time. Control what you can control. Don't let this pandemic move you to the back of the bus once we are clear to get back to work.
This blog was written by Jason Quarles, IUPUI Athletic Performance Coach. To learn more about the NIFS bloggers, click here.