BOSU Conditioning has been around for a decade now at NIFS. During this time, I have been fortunate to have had the opportunity to lead thousands of classes. With sizes ranging from 3 to 18, from 18 to 80 years of age —including athletes, non-athletes, former athletes, and new athletes—BOSU has the ability to make every exercise harder or easier so that it complements all fitness levels and everyone can enjoy it.
I have also embraced many of the BOSU philosophies that make BOSU a total body and cerebral mind challenge in my own workouts as well as with my training clients to enhance their overall fitness experience. These philosophies include balance, symmetry, and flow.
In the book The Art of War, Sun Tzu states that without struggle there is no progress. This statement can be used today with our training methods. Being within your comfort zone constantly allows the body to plateau. While it may seem challenging, being outside of your comfort zone will allow your body and mind to learn and eventually master new movement patterns. With your body constantly learning new movements, plateaus become less relevant and we see overall fitness growth.

BOSU is a tool that we use to create a fitness atmosphere where the body and mind are constantly challenged. You have the ability to reach new potential; give BOSU a try and experience a new challenge today! Find a class on the group fitness schedule and attend this week for a new fitness challenge!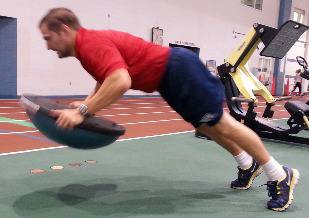 This blog was written by Health and Fitness Specialist and BOSU Conditioning instructor Thomas Livengood. Meet the NIFS bloggers.