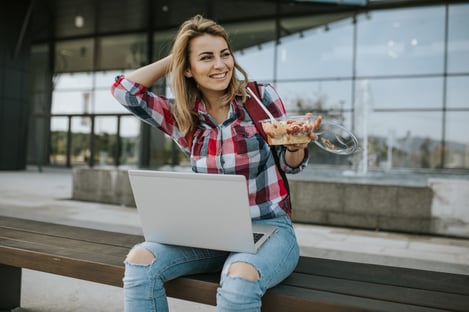 With the phrase "freshman 15" commonly tossed around, many students enter college with a fear or perception that they will gain weight. However, a meta-analysis of the available research showed that, while close to two thirds (60.9%) of first-year college students did gain weight, the average amount gained was only around 7.5 pounds. Of those who reported weight gain, only 10% gained 15 or more poundBased on these findings, not everyone experiences the "freshman 15"; however, it is evident that the majority of first-year college students do gain some weight. Increased stress levels, fewer hours of sleep, excess alcohol intake, and reduced physical activity are just some of the factors that may contribute to weight gain in college.
To prevent weight gain and maximize your overall health this semester, try some of the following suggestions:
Stick to a schedule.
College can wreak havoc on your preferred living, sleeping, and eating routines. It is important to establish a schedule and stick to it. Healthy habits to adopt include the following:
Eating at least three well-rounded meals each day (and minimize late-night snacking).

Going to bed and waking up around the same time each day.

Drinking plenty of water (a general recommendation is at least 2–3 liters [64–96oz] each day).

Getting between 7 and 9 hours of sleep each night.
Plan ahead and stock up on healthy staples.
A little preparation ahead of time will keep you from grabbing unhealthy snacks.
Keep healthy snacks and staples in your dorm room or apartment.

Some examples include the following: Microwavable brown rice, oatmeal, and popcorn; yogurt, apples, bananas, peanut butter, hummus, cheese sticks, granola, bagels, nuts, whole-grain crackers, cereal, and protein bars.

Limit foods commonly consumed in college that are high in sodium and calories, such as ramen noodles, heavily buttered popcorn, and pizza.

Keep a knife and cutting board on hand to slice fresh fruits and vegetables.
Limit high-sugar, high-calorie beverages.
Reduce intake of soda, energy drinks, sweetened coffees and teas, and alcohol. If you do choose to consume these beverages, be sure to drink in moderation and to factor them into your total caloric intake.
Don't overdo it at the dining hall.
With limitless options, including plenty of not-so-healthy ones, making smart and healthy decisions at the dining hall can be complicated. To start, aim to pair a high-quality, lean protein source (chicken, fish, turkey, beans, yogurt, eggs, etc.) with a fruit or vegetable at each meal. Other tips include the following:
Make use of the salad bar, if available, but be sure to limit high-caloric toppings such as nuts, seeds, cheeses, and dressings.

Allow yourself some "treat foods," but don't make this a daily habit.

Eliminate distractions while eating. Focus on the food you are eating, rather than your phone, laptop, or schoolwork.
Stay active.
Adults over 18 years of age should aim to get at least 150 minutes of moderate-intensity aerobic activity, such as brisk walking, and muscle-strengthening activities on two or more days each week. In order to meet these recommendations, make use of your school's recreation center or gym, walk to class when possible, or participate in intramural sports. (Here are some more tips for staying fit in college.)
This blog was written by Lindsey Recker, MS, RD, NIFS Registered Dietitian. To learn more about the NIFS bloggers, click here.