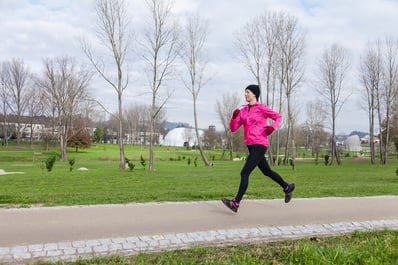 Your body needs fuel! When you are planning to do a run or a workout that is longer than an hour, the way to ensure that you have enough energy to get through it is to make sure you are eating the proper combination of foods beforehand for endurance. This is tricky, though, because you want to make sure what you are eating doesn't upset your stomach during the workout. Here are some suggestions to get you through the workout with the right nutrition for feeling great.
Tips for Eating Before a Workout
The most important thing is to eat something that is familiar. You never want to try something new on race day or competition day. The old saying "practice makes perfect" will help decide what works best for your body.
Aim for a meal that has an easily digestible carbohydrate-to-protein ratio of 3:1. Typically you want something that is lower in fiber and not high in saturated or bad-for-you fats.
For most people, eating around 2 hours prior to running is ideal; but some people have found they can tolerate food 30 minutes before a workout, especially if you are doing the run first thing in the morning. If that is the case, something smaller might be best. Make sure to have a snack before bed that has a combination of carbs and protein (such as cheese and crackers, a yogurt parfait, or fruit and nuts).
Pre-workout Meal Ideas
These are suggestions that you can try to come up with your body's perfect pre-workout meal depending on the time of day you are completing it.
1–2 slices of wheat toast or an English muffin with peanut butter
Cup of Greek yogurt with berries
Cup of oatmeal with fruit and nuts
Banana with almond butter
Half a bagel with an egg and cheese
Turkey sandwich with a slice of cheese
Pita pocket with homemade tuna salad
Cup of quinoa with veggies mixed in
Cup of whole-wheat pasta with meat sauce
Cup of brown rice with chicken and veggies
Start practicing with some of these suggestions or with other meals or snacks that sound good to you that meet the 3:1 carb-to-protein ratio so you are ready to tackle those long runs and workouts.
This blog was written by Angie Mitchell, RD, Wellness Coordinator. To find out more about the NIFS bloggers, click here.