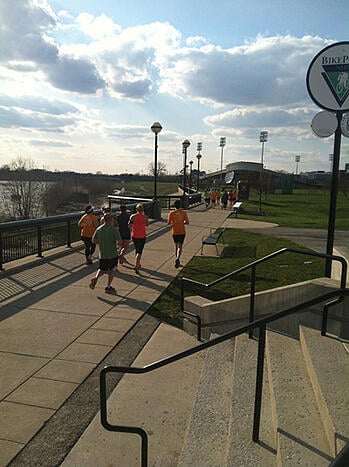 NIFS' Mini-Marathon Training Program has started, with most individuals' goals revolving around one thing: to run a new personal best. Come May, months and months of training will be put to the test against a tough 13.1-mile journey.
What are you doing to get ready? Many veteran runners of this race have programs that they have used year after year with repeated success. Some newcomers (or maybe even veterans) may still be searching for that training program that will allow them to reach their fastest potential. But where do you start? Obviously when preparing for a race (5K, half marathon, marathon, etc.), running will take up the majority of your training time. My only tip for the running aspect of your training is to be sure to utilize a running progression that fits your current training age (or level of fitness/training you are currently at). This will help ease your body's adjustment into the longer distances as they build up over the next few months.
This blog focuses on the less obvious pieces of your running puzzle. Check out my "3 Big Things" to consider when preparing to race.
1. Have Your Functional Movement Screen (FMS) Done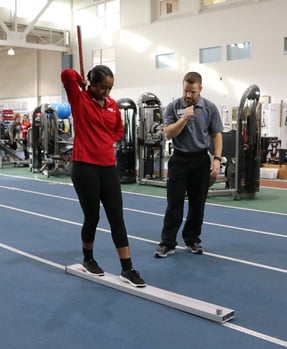 This sits at #1 on the list for good reason. The Functional Movement Screen (FMS) can help identify different types of mobility issues and muscular imbalances. In my experience with runners, these issues are prevalent. These are also issues that can lead to a less efficient running stride, or potentially even injuries.
Think about it this way: do you get better, worse, or the same gas mileage when you drive your car with uneven tire air pressure? The answer is worse. Now think about it in terms of your body. If you have an ankle that is immobile, you will be spending your training time and the 13.1-mile race fighting that issue. If you identify that problem and improve its mobility (i.e. airing up the low tire pressure), the workload will be more evenly distributed between both sides of the body. This should allow you to run more efficiently and expend fewer calories per stride.
Did I mention that NIFS members can have this done at our facility, FOR FREE?
2. Practice Self-Care/Recovery
It's not uncommon to see a runner's performance struggle not for the lack of an adequate training program, but because of what happens after training has concluded. What do you have planned for your off days or light training days? Do you even have off, light training, or recovery days? These are definitely factors that need to be addressed as soon as your training commences. Depending on your training age, these variables may be adjusted.
Training for any type of race is definitely going to be stressful on the body, so finding ways to optimize your recovery throughout your training program is paramount. Three main areas that I recommend that you focus on include the following:
Sleep: At least 6–7 hours.
Soft-tissue work (for example, foam rolling): Hips, calves, shins.
Low-impact/low-intensity movements: Cycling or swimming.
The ultimate goal throughout these areas will be to allow your body to prepare itself for the next intense training bout. Training at 60, 70, or 80% of your absolute best probably won't yield the greatest return on your training sessions. Being closer to that top level will allow you to push yourself each training session and get the best results.
Did I mention that NIFS members can talk to a trainer about how to optimize your rest and recovery at NIFS' fitness center, FOR FREE?
3. Do Strength Training
Some of you are probably looking at this with a "yeah, right" thought in your mind. If strength training is not currently in your running preparation program, I challenge you to add it. I'm not saying you have to be lifting weights 6 days a week. I'm not saying that you need to look like Arnold. I'm saying that a couple days a week of resistance training might be the key to take you to the next level. And no, you are not going to get big or bulky. Training frequency and the exercise selection associated with a strength program for runners will not yield those results. Bodybuilders train to get bigger. Athletes (runners included) train to prepare their body for their sport.
After mobility issues are improved from the FMS, I usually focus on a few main areas with runners that I strength train. Those areas include unilateral (single-side) exercises, lateral movements, and core strength.
Unilateral exercises allow the strength training to mimic stressors that are similar to running, which is also essentially a unilateral movement.
Variations of lateral exercises allow a runner (who normally only goes in a straight line) to develop strength in different planes of movement. This can be good for running efficiency as well as potentially reducing the risk for injury.
Lastly, and certainly not least, is core strength. Strength of the hips and abdominal area is key to maintaining your form throughout a race as well as reducing impact on the joints. Form and posture are vital to your performance while running, which will be enhanced by training these muscles.
Also, did I mention that members can have a strength-training program set up for you by a NIFS Health Fitness Specialist for free...

Conclusion
There are a lot of ways to approach how you train and a lot of ways that can make you successful when competing for your running goals. Make small changes with your current program to start, and slowly add in more as you see yourself improve!
This blog was written by Alex Soller, Athletic Performance Coach and NIFS Trainer. To find out more about the NIFS bloggers, click here.