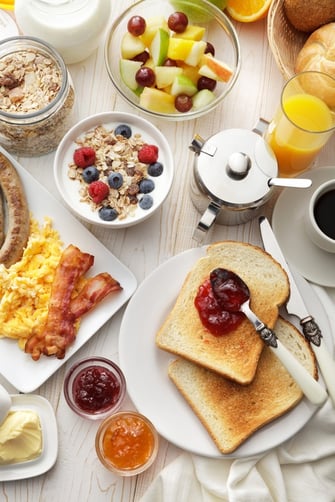 There are so many diets out there that it can be confusing as to what you should follow and who you should listen to when it comes to healthy and balanced eating. If you aren't sure where to begin to change your current routine, take a look at these tips that Registered Dietitians (the experts in healthy habits) recommend.
Eat breakfast daily. The most important meal of the day should not be missed. Aim for three food groups that combine a mixture of fiber and protein to keep you full and start your day off right. Oatmeal mixed with a nut butter and fruit, a whole-wheat English muffin with an egg and a glass of milk, a smoothie with frozen fruit and veggies and Greek yogurt, or a veggie omelet and toast are some quick, balanced, and fabulous options to have in the morning.
Eat mindfully. Mindful eaters will eat less than those who are distracted by their phone, television, computer, and emotions. Paying attention to whether you are hungry and then choosing foods that sound satisfying is the key to mindful eating.
Stay hydrated. Dehydration causes slowed metabolism, mindless eating, and feelings of false hunger. Drinking water throughout the day can help combat these. Have a reusable bottle on your desk at work as a visual reminder to keep drinking all day. (Here are tips for staying hydrated the easy way.)
Snack. Aim to have something to eat every four to five hours. A snack helps keep you satisfied until your next meal and prevents overeating caused by going too long without fuel. Be sure to grab a snack that has some fiber and/or protein to help you stay full and give your body the nutrients it needs. (Here are some easy smoothie recipes.)
Eat dessert. Believing that all foods—even dessert—can fit into a balanced diet is important. If you deprive yourself of your favorite foods, it can lead to a vicious cycle of guilt eating and feeling bad about your choice. Instead, enjoy your dessert with a balanced meal and then move on.
Following this advice from Registered Dietitians is the first step in lifelong balanced eating. Try to make each one a habit, so that healthy eating becomes a lifestyle instead of a challenge. Find out more about NIFS nutrition services.
This blog was written by Angie Mitchell, RD, Wellness Coordinator. To find out more about the NIFS bloggers, click here.