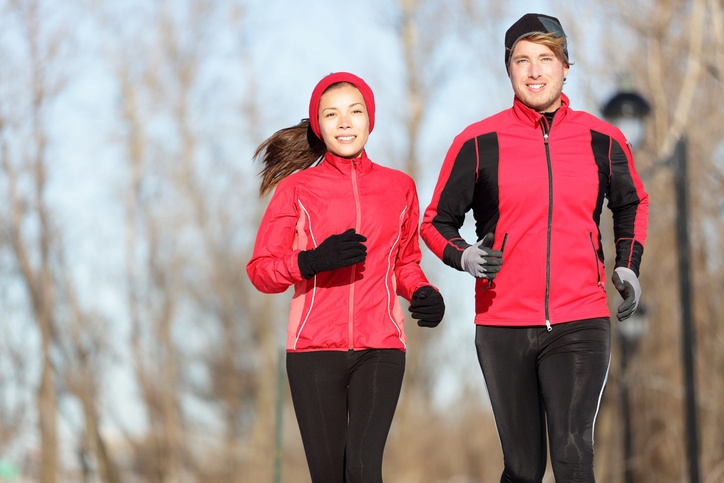 It happens every year. As the new year rolls around, we set our new fitness goals and get excited to get started on them and "make this year the year!" But with winter still here through the end of March, many of us end up with the goal to get fit, but with no motivating factors to flip the switch in our brains to get out of hibernation mode. It gets easier in the spring and summer, when we can start to change up the environment we work out in, the workload at the office might be lighter, and there is more daylight before the sun goes down. But what do we do until then?
As someone who used to go through this same cycle myself, let me shed some light on what seems to be a depressing beginning to this blog. Although there are multiple methods to keep your winter fitness going, that can tend to become overwhelming. So I would simply like to share five things that can help keep you on track during those dark winter days.
1. Get Your Baselines
So you have a goal to get fit, but how do you know that you've progressed? Even if you think you know where you are in your fitness, it's always good to get assessed; you might be further along than you thought, or you might find something you need to address before getting started.
Assessments such as the Functional Movement Screening (FMS), which takes a look at range of motion and stability before doing exercises with a load, or the Fundamental Capacity Screen (FCS), which assesses power and strength capacity, are important before starting a workout because they help you establish where your body's abilities are currently. Scores from these assessments can also zero in on areas to improve with corrective exercises to keep that area safe from possible future injury.
Other assessments to look into include the BOD POD, to check body fat percentage, as well as the Fit3D, to get a 3D scan of all of your body's measurements.
2. Plan Your Workouts
This one is a game changer. How many of you have walked into the gym before and wandered around pondering all of the things you "could do" that day, or jumped on one weight machine, then meandered to the next one you saw available, then found yourself ending up on a cardio machine because that seemed like the best thing to get your heart rate up for a bit? Then all of a sudden, you look at your watch and you've been at the gym for almost 3 hours?
Now, for those of you gym members who already plan and are training for something sport specific, don't fret. I understand the time you carve out to fit everything in. However, for all of you who have no idea what you should do until after you walk into the gym, this is your missing link to getting the most out of your workouts.
Whether it's a plan as simple as attending certain group fitness classes during the week, or getting with a trainer to set up a plan for you that works during your week based on your goals, a game plan for when you get to the gym will not only make you accomplish more in a shorter amount of time, but it also eliminates the excuse of not going because there's not as much to think about anymore. For more information on how you can sit down with a trainer to get started on your FREE strategy session and get a workout plan set for you as a NIFS member, click here to contact us. For our downloadable group fitness schedule, click here.
3. Set Up Your Environment
We all know that "too cold to get out of bed today" mentality that tends to set in during those cold winter days. To combat this, set yourself up for success by setting the thermostat timer to warm your house right before you wake up, so the need to curl up and stay warm is eliminated. Maybe make a change to a more enjoyable and uplifting tune to wake you up in the right mood rather than the normal ping. Setting out your workout clothes the night before or even having them in your gym bag and already in your car will help set you up for a stress-free day.
4. Continue to Stay Hydrated
Although it might be more appealing to drink an ice-cold glass of water during the heat of summer, the need to stay hydrated is imperative all year round. Drinking water not only prevents dehydration from the dry air that winter brings; it also helps your organs and cells continue to function well, assists in regulating body temperature, and boosts your immune system to help fight off common cold and flu sicknesses.
Tracking your water is a great way to aid in staying hydrated, and there are so many tools out there to use! For me personally, if I'm drinking it out of a pretty bottle, I'm more prone to fill it up and drink more. If you're like me, here's a great option one company has come up with to help you track your water intake in style! Zak Designs HydraTrak water bottle is an affordable, practical, and stylish bottle that includes bands to roll up and account for every full bottle of water you drink that day.
5. Accountability, Accountability, ACCOUNTABILITY!
I saved this one for last, because although all of the above tips are just as important, having something to hold you accountable is what's really going to set you apart from the rest and keep you on track to reach your goals.
Accountability can be molded into different forms—whatever works best for you. Some find accountability in simply writing their progress on a calendar or taking measurements along the way. Others find it in someone else who can either coach them through their journey, such as a program, or be along for the ride and have similar goals, such as a workout buddy. That's why gyms create programs for their members, such as the NIFS programs Slim It to Win It, Mini Marathon Training, Ramp Up to Weight Loss, etc. We know how important and how empowering it is to have that extra person there with you from day one, working to reach those same goals, among all of the obstacles that life throws at us. Even more so, your coach is ready to guide you every step of the way and check in on your progress to make sure you're setting yourself up for success! Try telling that person you stayed home from your session because "…it was cold and I just wanted to snooze a little longer before getting up." You might rethink that snooze option on your alarm next time!
Whatever your goal might be—weight loss, triathlon training, simply staying active for three days out of the week, etc.—we all have to deal with the business and daily distractions of life. Sometimes those distractions come with setbacks…and that's okay. What counts is having strategies in place to help you overcome those humps and keep you from falling completely off the wagon!
This blog was written by Rebecca Heck. To learn more about the NIFS bloggers, click here.